Fact Check: Bill Gates has neither been expelled from India nor polio drops paralyzed children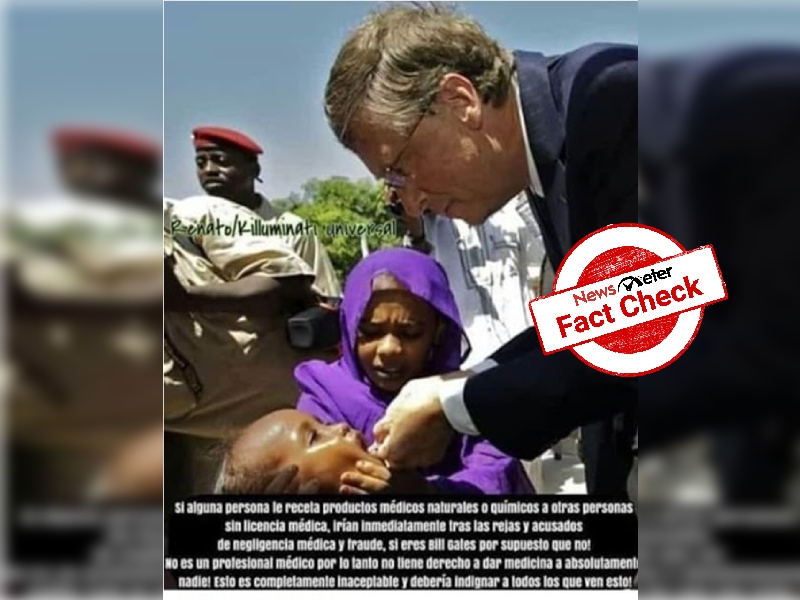 Hyderabad: Many Facebook users have shared the picture of Bill Gates administering polio drops to children.
"It should not be forgotten that Bill Gates got sued by hundreds of doctors for administering polio vaccines to more than 47,000 children. Through this vaccine, Gates caused dangerous 'super polio' in these children, due to which he got expelled from India. In 2011, doctors in India reported that a large number of children crippled after drinking the polio vaccine. The result of this was that thousands of children became disabled for life with the Bill Gates vaccine," reads the message.
A viral message with two claims on Facebook has notched 435 shares.
Archived claims can be found here. and here.
Fact Check:
We found both the claims to be False. Bill Gates was neither sued nor expelled from India nor did the polio vaccine paralyze Children.
The Bill Gates and Melinda Gates Foundation (BMGF) are working on several projects in India. BMGF has been funding research, and child immunization programs in many developing countries as well as India.
On 14 May 2020, Prime Minister Narendra Modi discussed with Bill Gates the "Importance of global innovation on scientific innovation and research and development to counter the epidemic (Covid-19)". PM Modi praised the work being done by BMGF not only in India but also across the world.
A press statement was issued by Indian Government in 2017. It said that some news reports had suggested that all collaboration with BMGF had been stopped, but it was "inaccurate and misleading, BMGF continues to collaborate and support the Ministry of Health and Family Welfare".
The viral post had claimed that a polio vaccine fed with Gates support paralyzed 47,000 children in India. The charge appears to arise from a report published in the 2012 Indian Journal of Medical Ethics.
According to this report, the steep increase in non-polio acute flaccid paralysis-NPAFP is "directly proportional to the polio intake." Funds to eradicate polio programs are done by BMGF.
There was an increase in NPAFP cases between 1991 and 2000, but this does not mean that the reason for this is essentially the polio vaccine.
According to the report of BBC News in 2013, polio is one of the reasons why other viruses and bacteria are also responsible for the cases of fast-growing acute flaccid paralysis in India.
It should also be noted that the World Health Organization has said that the polio vaccine is very safe and is the most effective against this disease to produce immunity in children. It also states that "On very rare occasions, OPV can lead to vaccine-associated paralytic polio or vaccine-derived poliovirus."
This fact check was also done by India Today.
Hence, both the claims are FALSE.
Claim Review :
Bill Gates has been expelled from India after polio drops paralyzed children
Claimed By :
Social Media Users