Hyderabad: Prime Minister Narendra Modi performed Bhumi pujan for Ram Mandir in a grand manner in Ayodhya. In this context, many pictures and videos are going viral trying to relate to this occasion.
One such image of British Prime Minister Boris Johnson is going viral with a claim that he, along with with his wife, is performing puja to Lord Rama's idol. The claim which is in Telugu when translated states that, "On the occasion of Ayodhya temple Bhumi Pujan, British Prime Minister, along with his wife, is performing Abhishekam to Rama idol."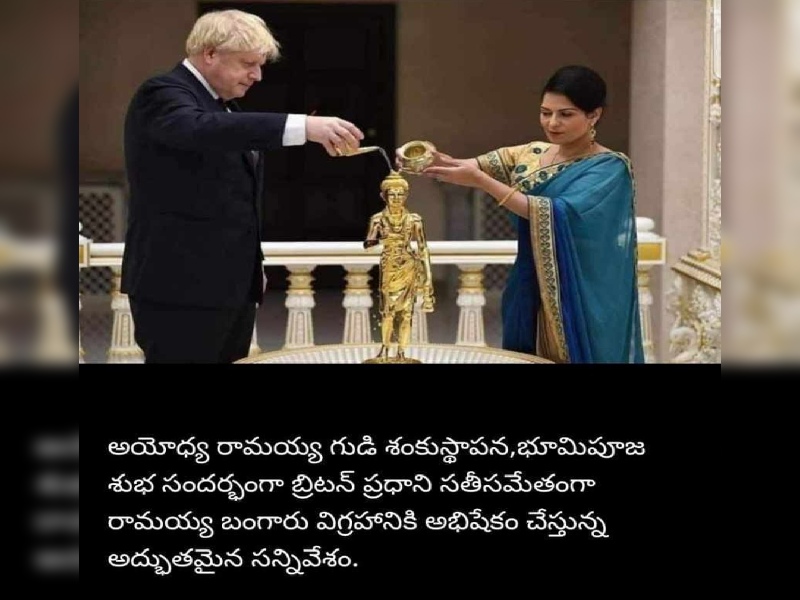 NewsMeter got this viral image on WhatsApp to check for its authenticity.
Fact Check:
This claim that the British Prime Minister offered prayers to Lord Rama's idol recently is FALSE.
Upon performing a reverse image search of this image using Google, NewsMeter found a Facebook post published by a page named Conservatives on December 9, 2019. The post was titled "Last night Boris Johnson visited the Hindu temple at Neasden in north-west London with Priti Patel. "This temple is one of the greatest gifts to our country. It has been brought to life by the amazing community spirit that inhabits it. You are giving back to our society through the great charitable work that you do. London and the UK are lucky to have you."
Taking this cue, we searched for keywords 'Boris Johnson visits the Hindu temple in Neasden', we found several results reporting this incident. This visit of the UK Prime Minister took place in December 2019, before elections in Britain. Boris Johnson and MP and Home Secretary Priti Patel visited Swaminarayan Temple in Neasden, Northwest London, on December 8, 2019, on the occasion of the 98th birthday celebrations of Pramukh Swamiji.
We also found a tweet by Neasden temple authorities.
Media reports stated that this visit was his trial to woo Indian diaspora before elections.
The woman seen with him in the picture is Home Secretary Priti Patel and NOT his wife. They are offering prayers to the idol of Shri Nilkanth Varni, the teenage form of Bhagwan Swaminarayan.
We also found another picture of him and his partner Carrie Symonds, clad in a bright pink saree offering prayers to the Nilkanth Varni idol on the temple website.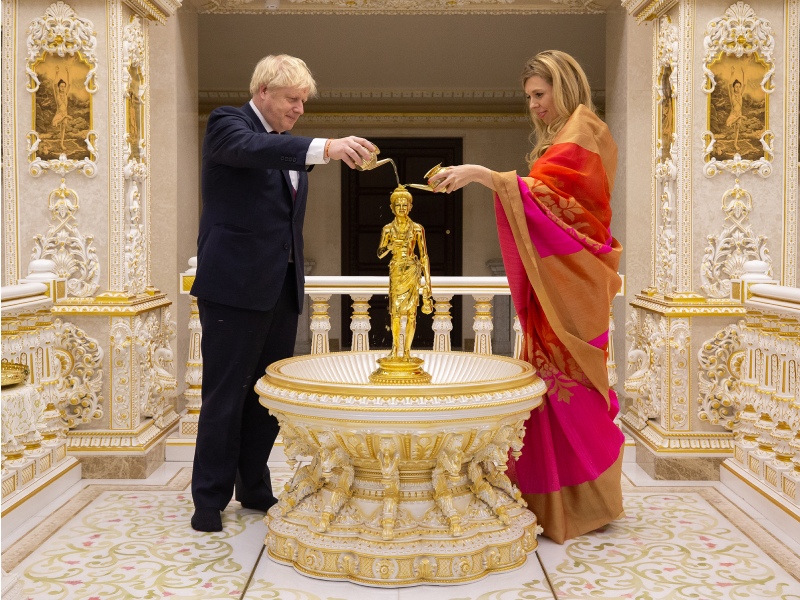 According to the temple's website, Prime Minister Boris Johnson visited BAPS Shri Swaminarayan Mandir, London – popularly known as the 'Neasden Temple' – on December 7, 2019. The visit coincided with the 98th birthday celebrations of His Holiness Pramukh Swami Maharaj, the inspirer, and creator of the Mandir.
The Prime Minister was greeted in a traditional Hindu manner with auspicious marks of welcome and goodwill. He then performed Abhishek (ritual pouring of water) of Shri Nilkanth Varni, before proceeding to the inner sanctum where he offered flower petals at the central shrine of Bhagwan Swaminarayan, to whom the Mandir is dedicated.
Hence, the claim that British Prime Minister Boris Johnson, along with his wife, is offering prayers to Rama idol is FALSE.
Claim Review :
British PM is offering prayers to Ramas idol, along with his wife
Claimed By :
Social Media Users