Hyderabad: The Union ministry of education has extended the tenure of incumbent Vice-Chancellor of the University of Hyderabad (UoH), Professor Appa Rao Podile, for a year.
His tenure was to end on 22 September.
"The President of India, in his capacity as a visitor of the University of Hyderabad, has been pleased to extend the tenure of Prof. Appa Rao Podile, the present Vice-Chancellor of the University of Hyderabad, beyond 22 September 2020, for a period of one year or till the time a new Vice-Chancellor is appointed, whichever is earlier," said S.K Biswas, the undersecretary of the government of India.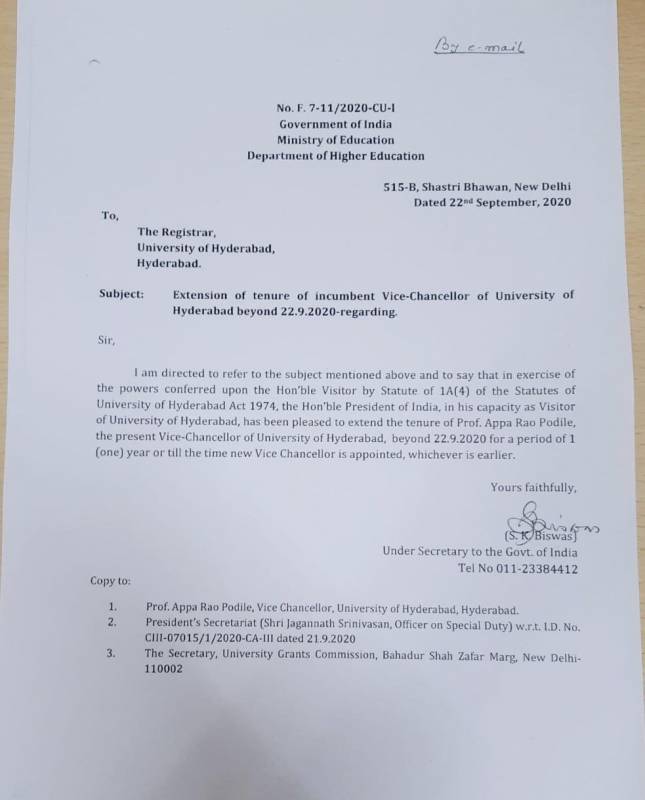 Prof. Appa Rao Podile was embroiled in a controversy following the death of Dalit PhD scholar Rohith Vemula who died by suicide in January 2016 after he was suspended from the hostel and was allegedly facing caste discrimination. His death started a countrywide protest against the Central government and the UoH students demanded the resignation of the Vice-Chancellor.
The same year in March, the V-C lodge was allegedly ransacked by the protesting students. Twenty-five students and two faculty members of the university were arrested.
In 2019, under Prof. Appa Rao Podile's vice-chancellorship, UoH gained recognition as an institution of eminence from the Central government.