Highlights
Older / Senior citizens are requested to stay within the house all the time and
avoid having visitors at home: Telangana health officials
246 containment areas are identified and process initiated in Telangana
Hyderabad: Telangana Chief Minister K. Chandrashekhar Rao, on 13 April, directed officials to pay more attention to Hyderabad city (covering the entire GHMC limits) as the number of Corona-positive cases jumped to 216 on April 13th, the highest recorded in a district.

On April 13th, the CM held a high-level review meeting to discuss the measures taken in order to contain the spread of Corona virus. The officials informed CM that 61 new Corona-positive cases and one death had been reported on Monday. In view of the rising COVID-19 cases, all laboratories and hospitals have been kept ready and infrastructure readied to handle 1,000 to 1,100 tests and treat any number of patients, the officials told the Chief Minister.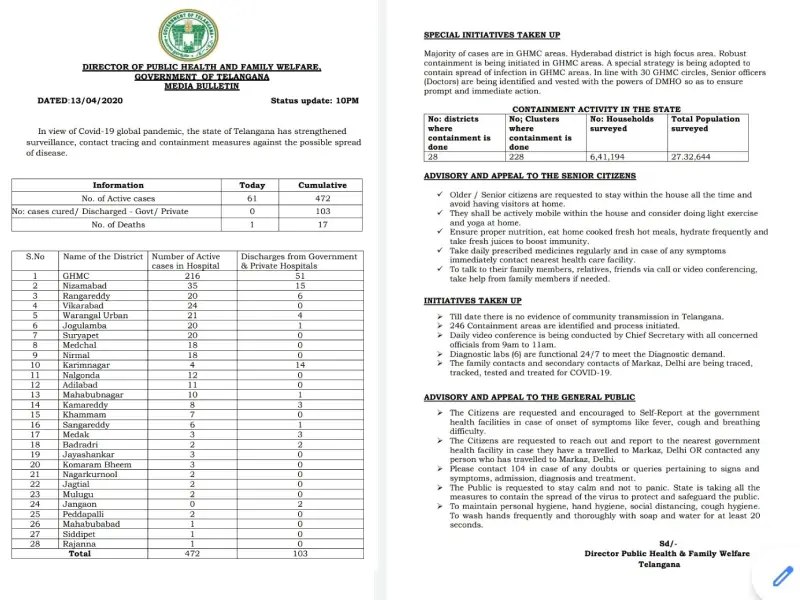 Seeking a special strategy to contain the virus, KCR said, "More cases are being reported in the Greater Hyderabad area. Here there are more chances of infected people spreading it to others. Hence, there should be a special strategy for Hyderabad. Divide 17 circles in the city into 17 units. In each unit appoint a special medical, municipal, and revenue official, and a police officer. The entire municipal administration should be involved in the prevention of Corona virus. Right now there is only one District medial health officer  in Hyderabad City. Appoint senior medical officers to the 17 circles.
KCR said that based on the number of positive cases, 246 containment centres have been created in the state. "There are 126 containment centres in Hyderabad alone. Manage these centres effectively. Do not allow people from the containment centre to go out and don't allow others to enter these centres. Appoint a special nodal official and a police officer at the centres. Maintain a strict vigil under their supervision," KCR directed  adding that the government machinery should supply the essential commodities to people in these centres.
He said the rise in COVID-19 cases in the GHMC area was alarming because of the high density of population here. He directed the medical and health minister, the municipal administration minister, and other senior officials to review the GHMC area circle-wise every morning from Pragathi Bhavan. Necessary action should follow based on the review, he said. The CM once again requested people not to come out of their homes and be more cautious.