Hyderabad: Spread across 99 acres, Saroor Nagar lake is one of the core lakes of Hyderabad. In 2003, the Andhra Pradesh tourism ministry had announced that it would turn the lake into a tourist spot, but with the expansion of the city, the lake had become a garbage dump. However, in the past six months, a group of Hyderabadis has taken up the responsibility of cleaning the lake.
Prasanth Madmidala, a member of the organization Helping Hands Humanity, says, "During the weekends around 30 people join us. Initially, we focused on the side which has more number of apartments, but later we shifted our focus to the main road. Because of this people noticed us and many have joined our efforts to clean the lake." Other organisations helping with the clean up are Vrikshit Foundation, Hyderabad Runner, and Avinash College of Commerce (ACC) Services.
With around 30 to 40 members joining the cleanup efforts during weekends, they have managed to remove around 800 tonnes of garbage in six months. "This was possible because sometimes a large number of people join us. We had to ask the municipal corporation to send us trucks for the waste that we had cleared from the lake," said Mr Prasanth.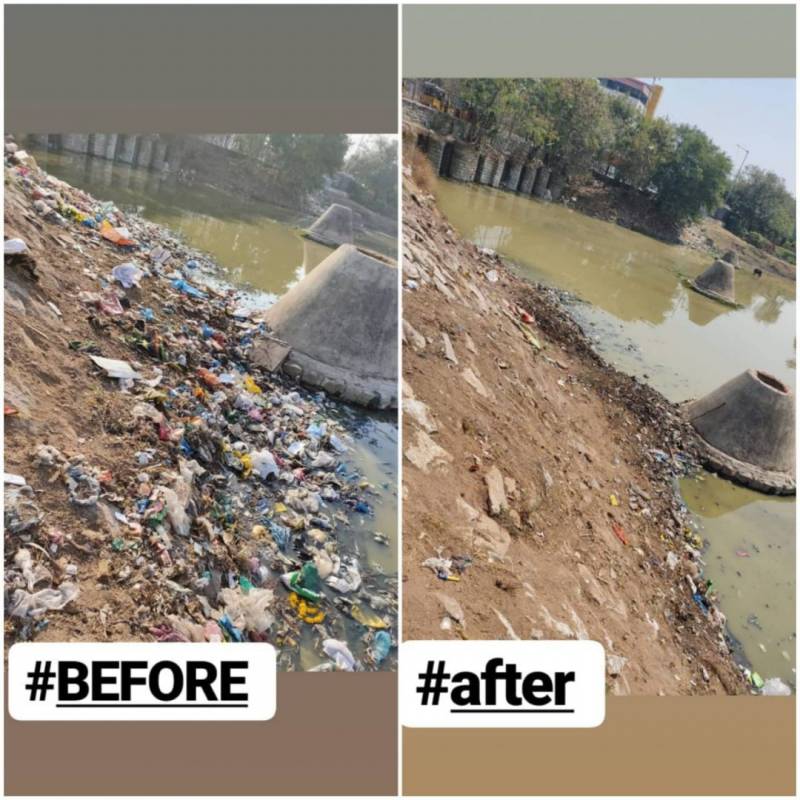 Though the lake is used for sewage disposal, one can still maintain it, believes a fellow cleaner Satish. He says, "The lake is part of Musi river, so people have some beliefs and throw their pooja waste into the river. About 90 per cent of the waste we clear is pooja waste and some plastic products. Even after door-to-door campaigns, people still do not understand the issue. "
Kota Sai Kumar, the main coordinator of ACC Services, says, "We are requesting the government to provide dustbins near the lake so that some waste is at least thrown in the dustbins. People throw their pooja waste with plastic bags in the river, which is again increasing the plastic waste." Around 10 to 15 students join Mr Kumar every week to clean the lake. The Greater Hyderabad Municipal Corporation sanitation workers also join them.
There are two sewage treatment plants by the lake which ensures that sewage is treated before letting it into the river. The Saroor nagar lake comes under the Musi River Development Programme, so the citizens hope the lake will get a new face.