Hyderabad: Ram Mandir Bhoomi Pujan foundation stone will be laid by Prime Minister Narendra Modi at 12.30 pm on Wednesday. Many photos and videos are being shared on social media with different claims. One such claim is the preparation of 1.11 lakh Laddus for the Bhoomi Poojan ceremony.
A photo is now trending on Instagram, WhatsApp, and Twitter with two claims.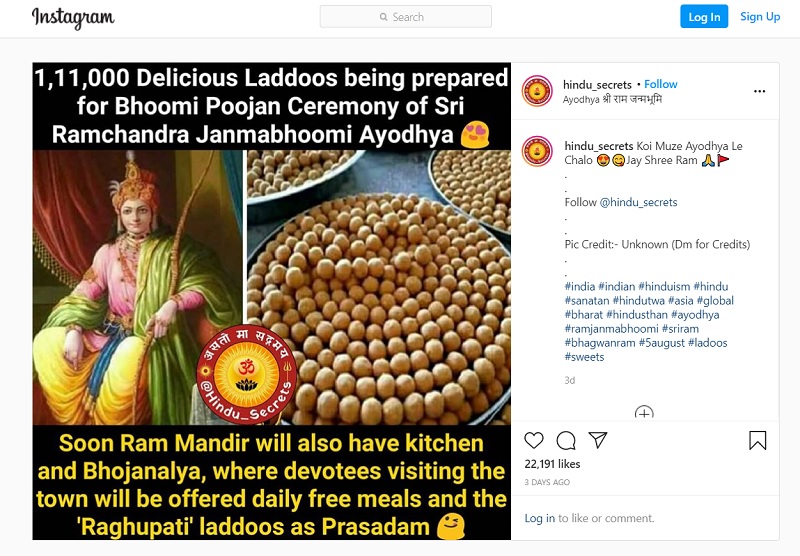 The first claim is: "1, 11,000 Delicious Laddus being prepared for the Bhoomi Poojan Ceremony at Sri Ramachandra Janmabhoomi Ayodhya".
The second claim is: "Soon Ram Mandir will also have a kitchen and Bhojanalya, where devotees visiting the town will be offered free meals and the 'Raghupati' laddus as Prasadam."
Fact Check:
By using keywords search '1110000 Laddus for Ayodhya,' and 'Ram Mandir Ayodhya kitchen' we found various sources that prove that these claims are True.
As per ABPLive, TV9.com, Dainik Bhaskar, 1.11 lakh gram flour Laddus are being prepared in pure desi ghee. These will be distributed among the people as prasad. Devraha Baba's organization will be distributing laddus.
Preparation of these laddus by 15 special chefs of Vindhyachal began on August 3. This Prasad of Lord Sri Ram will be delivered to all pilgrimage sites in the country. Laddus are being kept in three different types of steel containers.
As per Prabhat Khabar, Mahavir Temple Trust of Patna will arrange a community banquet for the devotees of Ram temple in Ayodhya and the name will be 'Ram Rasoi'.
The Trust plans to make regular meals and 'Raghupati' laddus for devotees in this kitchen. The trust started a community kitchen 'Sita Rasoi' in Sitamarhi, the birthplace of Sita where free meals are now being served. In Ayodhya, a similar kitchen will be started near Lord Ram Janambhoomi site, which will be named as 'Ram Rasoi'.
Hence, both claims are TRUE.
Claim Review :
1.11L laddus prepared for Ayodhya Ram Mandir Bhoomi Pujan
Claimed By :
Social Media Users