Hyderabad: According to the latest data released by the Centre for Monitoring Indian Economy (CMIE), the employment rates in Telangana rose in August. This can be marked by the fact that the unemployment rate in the state dipped from 9.1 per cent in July to 5.8 per cent in August.
As per the official CMIE figures, the unemployment rate in Telangana stands at 5.8 per cent as on 1 September.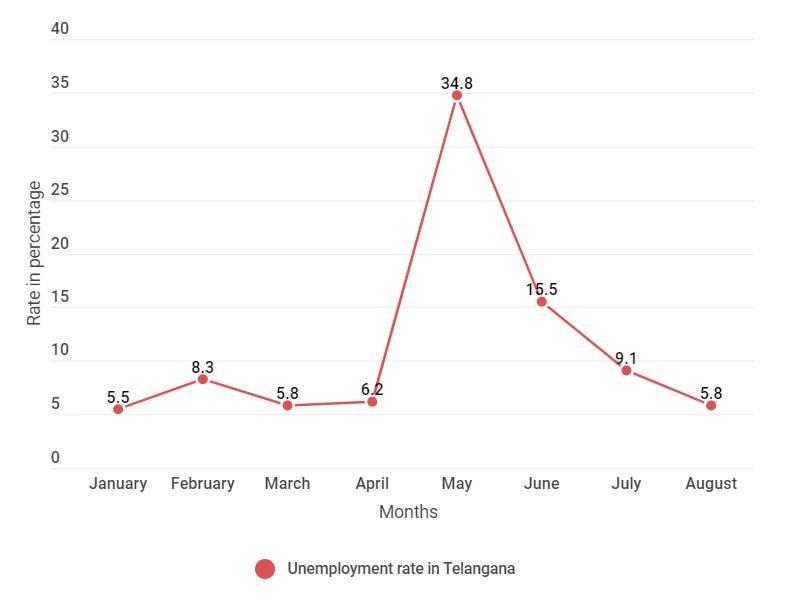 Unemployment rate in Telangana through Jan-August 2020
Source: CMIE
Professor C. Ramachandraiah of the Centre for Economic and Social Studies said the decline could be because of the easing of lockdown restrictions that resulted in a gradual growth in employment in the informal sector, including shops, street vendors, delivery services, and more. He said, "The reasons for the earlier decrease in unemployment only strengthened this month. New businesses may have expanded by taking extra workers. Travel has also increased, so employment related to those activities must have gone up, too." He further added that the rise in informal activities and self-run businesses must have caused the 3 per cent dip.
The unemployment rates in July also saw a sharp dip from the previous month. It dipped from 15.5 per cent in June to 9.1 per cent in July.
It is pertinent to mention here that according to the Central government guidelines on Unlock 3.0, which was kicked off in August, several shops and businesses were allowed to reopen across the country. Gyms and yoga centres were also allowed to open from 5 August with standard operating procedures.
Pankhuri Dutt, Public Policy Consultant (Economics & Finance), NITI Aayog, said, "Not just Telangana, several other states like Andhra, Tamil Nadu, Delhi, Karnataka and a few others registered lower unemployment rates in August compared to July as per CMIE data. This looks promising and reflects the effects of easing lockdown restrictions. The rate is close to what it was in March indicating that most people have rejoined their work. However, this rate does not inform us whether new jobs were created or whether people joined back at lower salaries. These numbers would add more meaning to the impact of COVID-19 on employment."
Meanwhile, Andhra Pradesh, too, showed signs of recovery as the state's unemployment rate dipped to 7 per cent in August. It was 8.3 per cent in July.
While the state saw a massive decrease in unemployment rates from May (17.5) to June (2.0), the sudden surge in July came as an anomaly. Unemployment in the state also peaked in April at 20.5 per cent. However, it is now showing signs of recovery.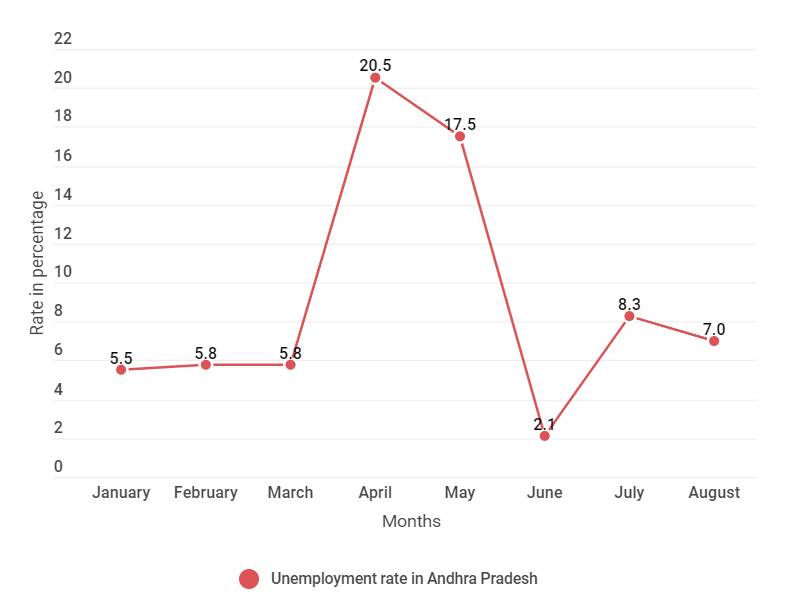 Unemployment rate in AP through Jan-August 2020
Source: CMIE
Telangana's unemployment rate had peaked in May at a whopping 34.8 per cent.
The national unemployment rate, meanwhile, stands at 8.35 per cent for August, which is an increase from the previous 7.43 per cent. The urban unemployment rate is currently 9.83 per cent, which is a rise from 9.15 per cent in July. Rural unemployment also rose from 6.66 per cent to 7.65 in August..