Fact check: Collage on comparison of Indians attitude towards COVID and solar eclipse is false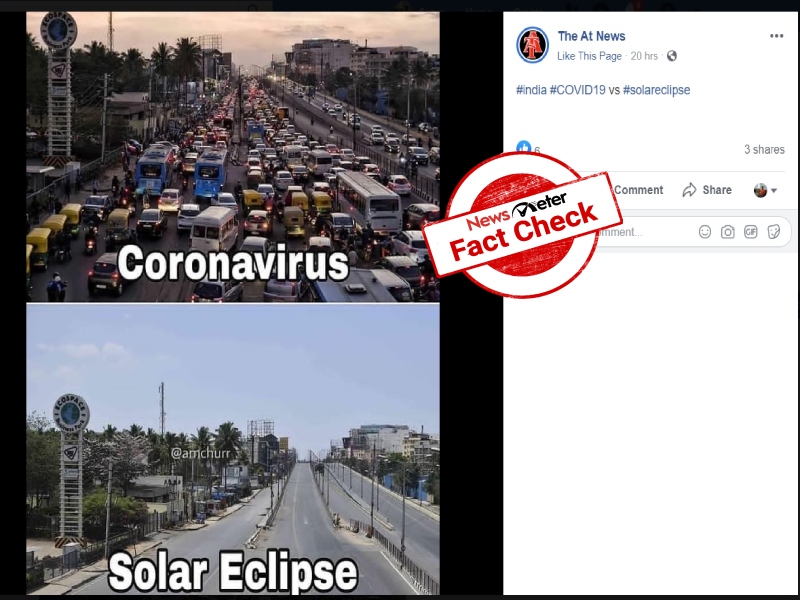 Hyderabad: The annular solar eclipse occurred on June 21 but people in a few areas only could witness the magnificent 'Ring of Fire' while others could not as the sky turned dark with the moon overshadowing the mighty sun.
Soon, the beautiful images of the celestial phenomenon began appearing throughout the media.
Amidst this, an image, a collage of two pictures of the same place, one showing a road filled with vehicles and another, an empty road turned viral on the social media. The picture showing the busy road was titled Coronavirus, while the empty street was titled Solar Eclipse.
The image implies that in India, people roam on the streets even amidst the Covid-19 pandemic, but stay at homes during a solar eclipse.
Many users shared this collage with #india #COVID-19 vs #solareclipse.
Fact check:
The viral claim is FALSE.
When we searched for this picture using a reverse image search, we found several reports from March 2020. These images were published in many media websites, depicting the deserted look of the major cities on complete lockdown or Janata Curfew observed on March 22, 2020, Sunday.
The viral images were shared by Scroll.in, on March 22, 2020, with the description stating, "this combination of pictures shows vehicles moving slowly on a road in Bangalore on February 5, 2020, (top) and the same road (bottom) deserted during one-day nationwide 'Janata Curfew' on March 22, 2020. [Photo: Manjunath Kiran/AFP]"
India Times has also published the image of deserted Bangalore in its article on the same lines.
Even the Tribune website carried this image for an article titled 'Millions of Indians ordered to stay at home' published on March 23, 2020
This collage does NOT depict pictures before and on solar eclipse day. They belong to the city of Bangalore and depict the situation before COVID breakout and on Janata Curfew day.
Therefore, the above claim is FALSE.
Claim Review :
Collage on comparison of Indians attitude towards COVID and solar eclipse
Claimed By :
Social Media Users