Visakhapatnam: At least five police constables, including female cops, stand guard at each Rythu Bazaar in Vizag region of Andhra Pradesh as special counters sold onions at the subsidised rate of Rs 25 a kilogram.
A sharp rise in the prices of onions has pushed people to stand for hours in serpentine queues for the past few weeks across Vizag, Vizianagaram and Srikakulam districts in north AP to buy the staple at the discounted.
However, Rythu Bazaars do not have sufficient stock to provide a kilo of onion to each consumer, people are jumping the line and fighting with each other to move forward to grab the subsidised onions, said officials.
"It is very difficult to control consumers and we have come across stampede-like situations to buy the subsidised onions. We have requested the police to deploy constables to control the crowd," said MK Rao, Assistant Director of Marketing, Horticulture, Vizag.
The Maharashtra variety of onions are currently being sold at Rs180 per kg, while the Kurnool variety sells at Rs120 a kg at the retail markets in Vizag.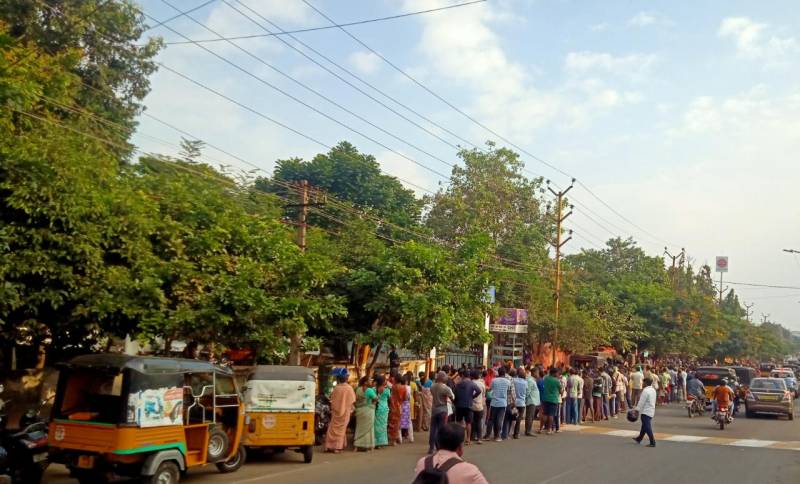 "It is very difficult to afford Rs 120 for a kg of onions. I have no other option except standing in the long queue for buy onions for my family at Rs 25 per kg," said T Anil Kumar, a resident of Vizag city.
The police department said it's a challenge to maintain order among the onion buyers. "Despite our repeated requests to follow the queue, some consumers break rules and create stampede-like situations," said a constable deployed at a Rythu Bazaar. A couple of days ago, few people suffered minor injuries after chaos took over a Rythu Bazaar at Parvathipuram in Vizianagaram district.
"We have deputed constables at almost all the Rythu Bazaars in North Andhra to control the crowd and prevent mishaps," said a senior police officer in Vizag region.
The Vizag region requires at least 200 tonnes of onions every day. But the supply has been around 90 tonnes a day. The price is expected to touch Rs200 a kg on Sunday. It will come down only after the supply from Maharashtra and Kurnool improves.