Hyderabad: The nation-wide lockdown imposed on account of the COVID-19 pandemic has left the underprivileged, even more vulnerable. Taking note of the issue, the International Institute of Information Technology (IIIT- H) in Hyderabad has opened up its kitchen to prepare food for those in dire need in the city.
An initiative taken up in collaboration with the Telangana Social Impact Group (T-SIG) and the state government, the community kitchen prepares food for around 160 people every day, purely relying on volunteers.
IIIT-Hyderabad has around 70-odd students who have not been able to leave the campus owing to various reasons. With several of them volunteering to work, the community kitchen has been a success, say students.
The kitchen is headed by Prof. Aniket Alam and Prof. Radhika Krishnan, with support from Prof. Shatrunjay Rawat , who is currently in charge of the mess operations. Every day, approximately 150-160 meal boxes are prepared and dispatched twice a day, at 12 pm in the afternoon, and 5 pm in the evening.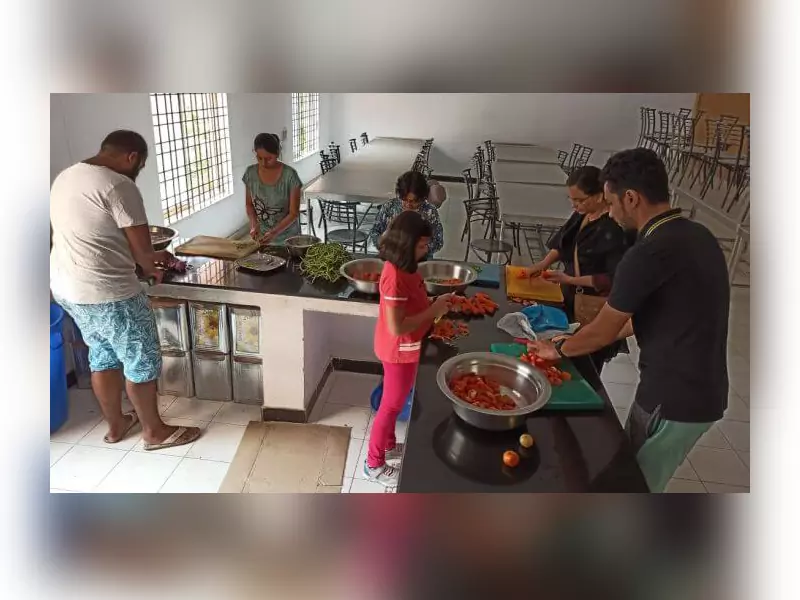 "The focus is on providing one-pot meals like khichdi, rajma-chawal, chole-chawal, dalia upma, jeera rice, aloo baingan among others. Basically we try to see whether the food can be cooked in one big vessel," says Prof. Alam. Even in the case of packing, the IIIT-kitchen is one step ahead. An aluminium box with a resealable lid is usually used to pack the meals.
"Packing the food and keeping them in these boxes with a cardboard seal on all sides keeps it hot. They are convenient as people can eat the food and seal the lid again and eat when hungry," Mr Alam says.
The food is distributed among migrant workers and daily wage earners, who are bearing the brunt of the COVID-19 lockdown. Remarkably, just on April 9th, around 50,000 food parcels were distributed by kitchens like the IIIT's through our network, says Raj Janagam, associated with the Telangana Social Impact Group.