Hyderabad: Over 53 percent of patients who died of COVID were in the age group 50 to 70 years, Telangana's daily health bulletin has revealed.
Of the 34 deaths, 18 were in the age group of 50-59 years and 70-79 years.
Around 20 percent of the deaths reported in the state were in the age group of 60-69 age years. Seven people out of the 34 deaths were in their 60s, the bulletin reported. In addition, five deceased were in their 50s, while two people were in the 80-89 age group.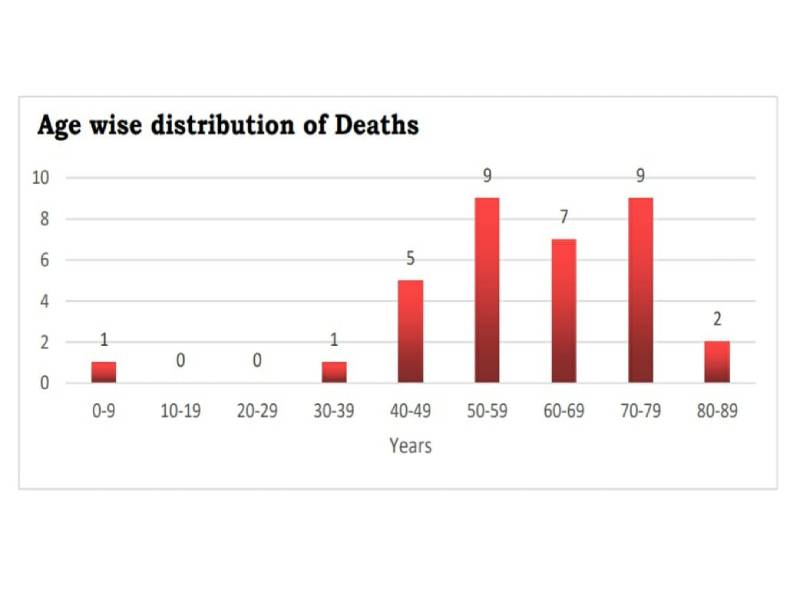 According to Dr. Raja Rao, the superintendent of Gandhi Hospital, the death rate in these age groups could be due to their high co-morbidity rate.
"When a person already suffers from hypertension, cardiac disease, or even kidney failure, their co-morbidity rate is high. Add COVID-19 to this equation, it gets complicated. I do believe some of the deaths may not have happened due to COVID-19 alone. It was due to a build-up of several other diseases, accelerated by the novel coronavirus," he said.
Meanwhile, the bulletin also showed that around 79 percent of people who died of COVID-19 in the state were men. Earlier reports had shown that 66.5 COVID patients in the state are men. Women constituted 33.5 percent of the total COVID-19 patients.
Telangana reported 47 new cases of COVID-19 on May 14. Of which 40 cases were from the GHMC area alone. This takes the total number of COVID-19 cases in the state to 1,414. The state has 428 active cases of COVID-19, with 952 people being cured/discharged till date.