Hyderabad: The tally of total COVID positive cases in Telangana climbed to 80,751 on Sunday, 9th August. The data, as released by the Telangana Department of Public Health and Family Welfare on 10th August, says that 1,256 citizens tested positive for the virus on the day.
Meanwhile, 1,587 citizens recovered from the virus on Sunday, taking the tally of total recoveries in the state to 57,586. The recovery rate, as per the government, now stands at 71.31 per cent.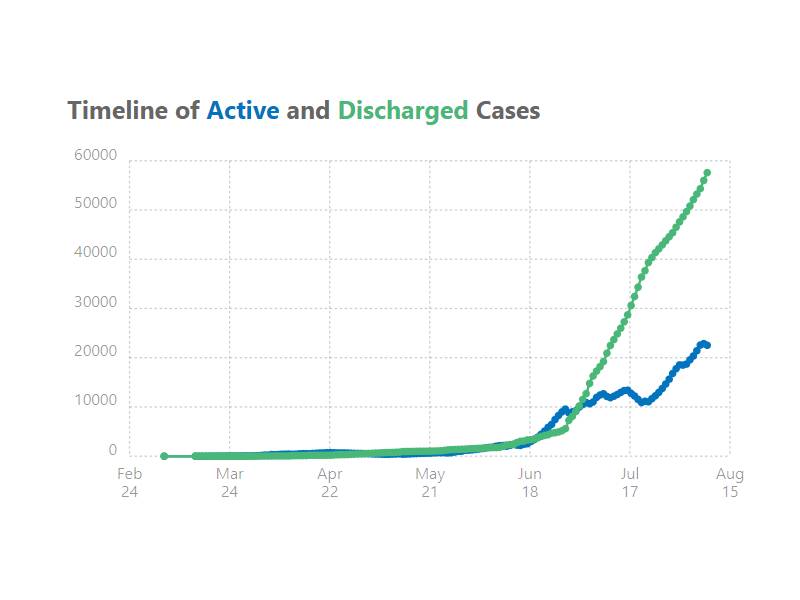 Timeline of active and discarged cases in the state (upto 9th August)
Source: https://covid19.telangana.gov.in/

A total of 10 people succumbed to the virus on the day, taking the fatality rate of COVID in the state to 0.78 per cent. Altogether, 637 citizens have succumbed to the virus.
As of 9th August, there are 22,528 active cases of coronavirus in the state and 15,789 are under home isolation. Of those placed under home isolation, 84 per cent show no symptoms of the virus.
The number of samples tested on 9th August is 11,609. The state government also reported that with close to 6.25 lakh tests conducted for COVID, samples tested per million population are 16,830.
Vacancy of beds:
The state currently has 17,866 vacant beds for COVID patients.
There are 11,532 isolation beds, 4,496 oxygen beds, and 1,838 ICU beds vacant at state hospitals.