Forest department busts poaching gang; arrests five, seizes carcass of black-naped hare at Nizamabad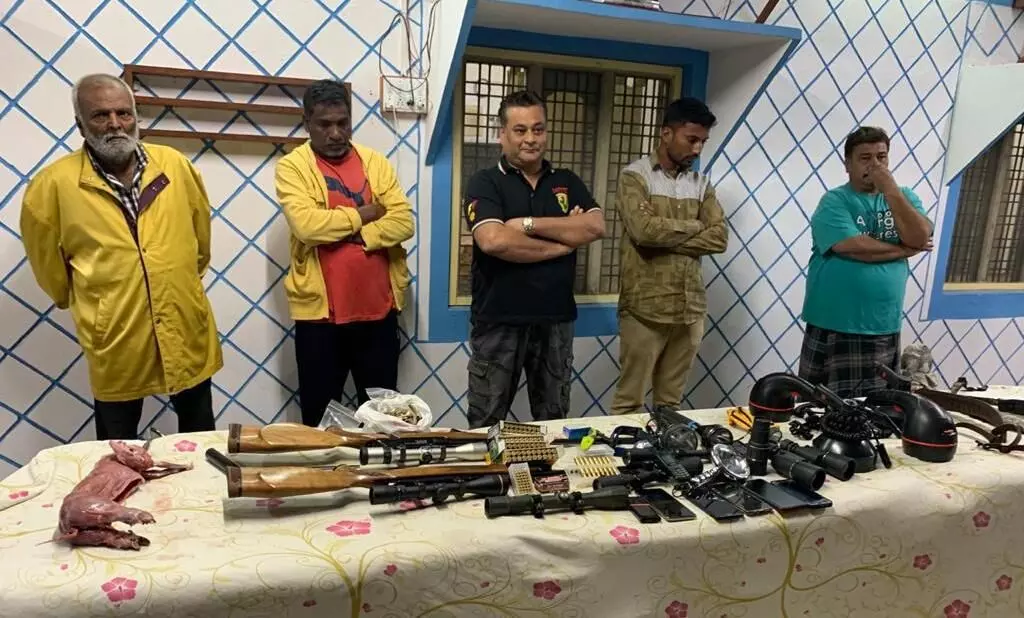 Nizamabad: Vigilance and anti-poaching officials of Telangana forest department raided a rice mill in Nizamabad district and arrested five-member of a poaching gang including its ring leader Luqman Affendi.

A black-naped hare that was hunted and skinned was seized from the premises. Two rifles with telescopes and silencers, searchlights, binoculars, knives, torch lights, and other material used for hunting were also seized.
Besides Luqman, his brother Imran Affendi, Shaik Raj Ahmed, Mohammed Jameel and Mohammed Shahrukh were arrested
The joint operation by the forest department was conducted in the wee hours of Sunday at Jokora village near Varni in Nizamabad district.
During questioning, Luqman Affendi said he had gone to the nearby forest area to hunt Blackbucks, but could not find any. On his return, he said, he hunted a hare.
The hunting of the hare is punishable under Wildlife Protection Act 1972 with imprisonment up to 3 years or fine up to Rs. 25,000 or both.
Forest officials simultaneously conducted raids on the house of Luqman Affendi at Gudimalkapur in Mehdipatnam and found meat in a deep freezer.
They also found two rifle butts in the house. These articles were also seized and the meat samples were sent to CCMB at Hyderabad for tests.
"Detailed investigation into the case is on and the five offenders were arrested. They will be produced before the court for remand. The information received by the department shows that Luqman Affendi is a habitual hunter," an official release from the forest department stated.
According to forest officials, Luqman Affendi regularly invites his friends from Hyderabad to Nizamabad for a wild animal meat party.