Crossing a road most fatal at Miyapur NH65, Charminar IRR in GHMC: Pedestrian crashes report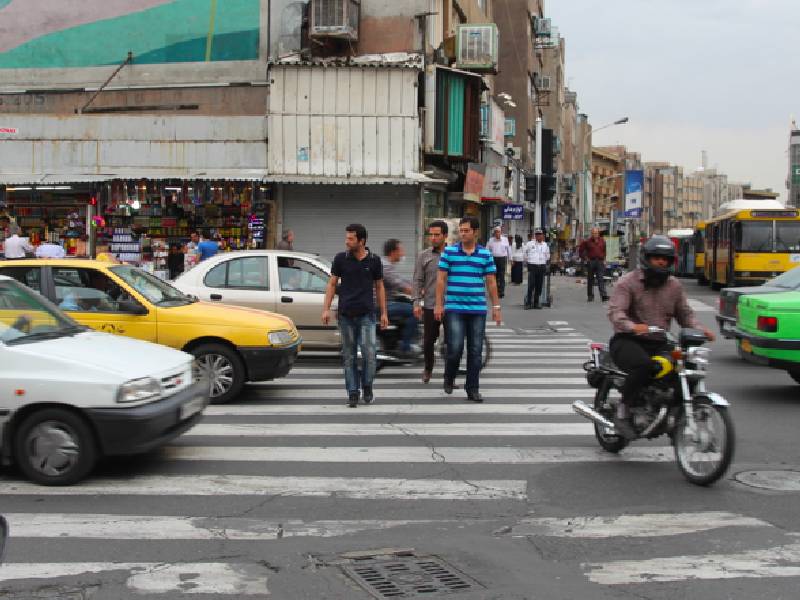 Hyderabad: An extensive study done by The Footpath Initiative revealed that 568 fatal crashes involving pedestrians occurred in the Greater Hyderabad Municipal Corporation (GHMC) area between 2017-19. Data collected from 127 wards of five GHMC zones showed that a majority of the crashes occurred on the NH65 RC Puram Post Office to Miyapur Metro road, and from the latter to Ferozguda Railway bridge. On the former road that stretches 10 km, a total of 35 fatal accidents took place during the period, whereas 30 fatal accidents occurred on the latter.
Meanwhile, the 8 km stretch between Inner Ring Road in Charminar zone that goes from Santosh Nagar crossroad and Ring Road junction saw 24 fatal crashes between 2017 to 2019.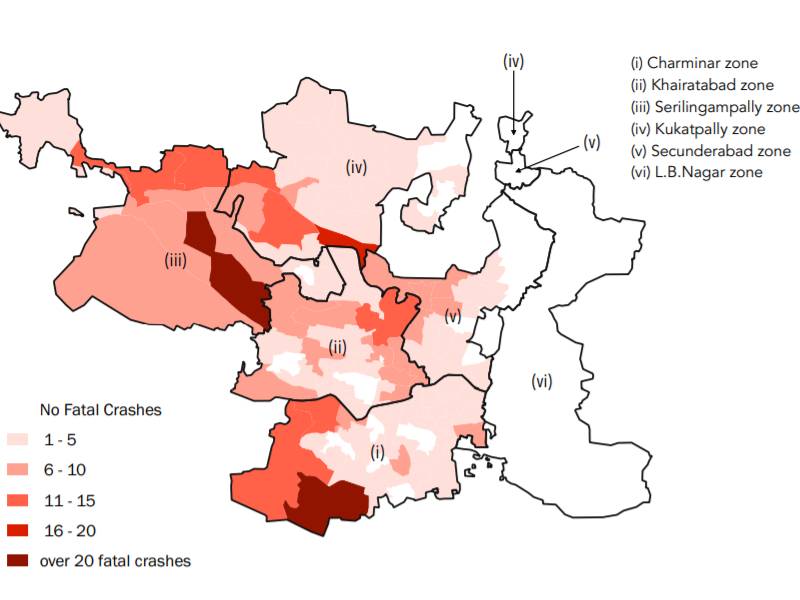 Pedestrian crashes in GHMC wards that led to death of the victims (2017-2019)
Source: The Footpath Initiative
Three out of every four accidents happened while pedestrians were crossing the road and a total of 602 people were killed in these crashes. According to Varun Sridhar, the founder of the Initiative, this points to an urgent need for regular, signalised, and at-grade pedestrian crossings on these roads.
The report analyses crashes in Charminar, Khairatabad, Serilingampally, Secundrabad, and Kukatpally zones of the GHMC. The only zone which witnessed a reduction in fatal pedestrian crashes was Khairatabad. Charminar and Secundrabad proved to be as safe for citizens in 2019 as they were in 2017. Serilingampally zone saw an increase in fatal crashes. Accidents in the Kukatpally zone also saw an aggregate increase.
GHMC wards with the highest number of [edestrian crashes (2017-2019)
Source: The Footpath Initiative
Charminar zone's Marilardevpally (ward 59) witnessed the highest number of crashes (33) in the three years, followed by Kondapur in Serilingampally zone with 23 fatal crashes, and Kukatpally's Fateh Nagar (ward 118) with 16 fatal crashes.
According to the report, 31 per cent of the crashes killed pedestrians who were involved in roadside activities, such as walking on the footpath, playing, sleeping, or waiting for a bus. Varun opined that this highlights the limited availability of usable footpaths and safe crossings in Hyderabad.
A total of 135 crashes were recorded in the Charminar zone between 2017 and 2019 and 72.6 per cent of these happened on arterial roads or high-capacity urban roads. A large majority of them happened while pedestrians were crossing the road. Similarly, 73 per cent of the crashes in Serilingampally zone occurred on arterial roads, and a majority of the victims were crossing the road while it happened.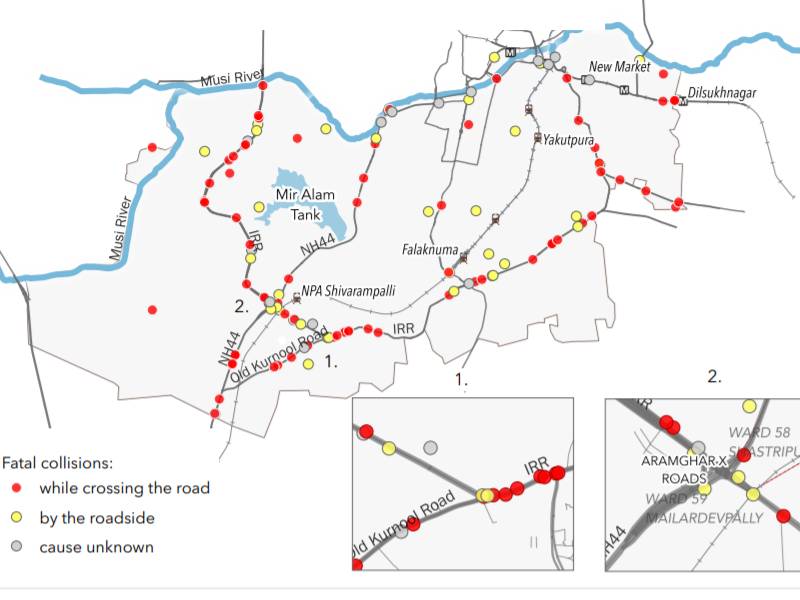 Fatal pedestrian crashes in the GHMC Charminar Zone (2017-19)
Source: The Footpath Initiative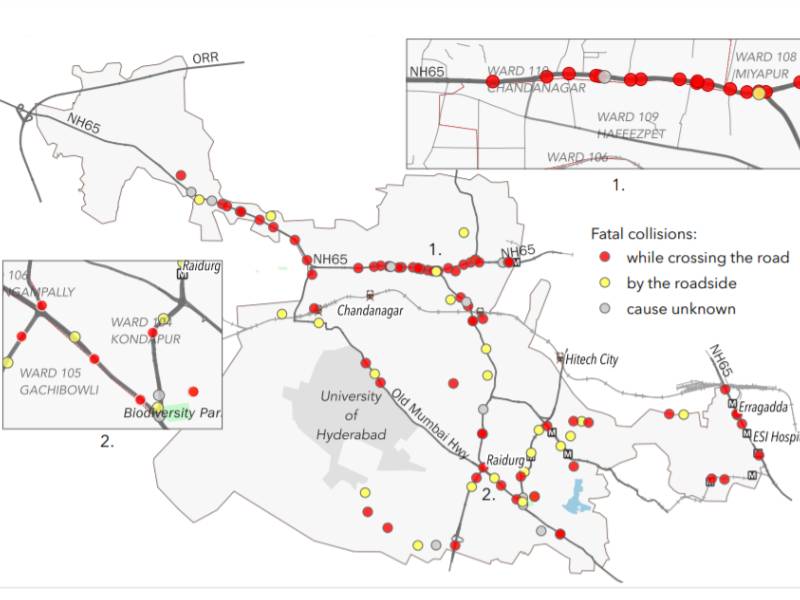 Fatal pedestrian crashes in the GHMC Serilingampally Zone (2017-19)
Source: The Footpath Initiative'
Also, 62 per cent of the total accidents analysed in the Footpath Initiative's report occurred on arterial roads.
Reflecting on the dangers of arterial roads, Varun said, "Most of these roads have offices on one side and ATMs/ restaurants on the other. Accidents, hence are bound to happen because drivers drive at a high speed there. For instance, the NH 65 Miyapur road has multiple driving lanes, which makes crossing the road risky."
He further said that this highlights the need for more mid-block crossings. Citing a report by the ministry of road transport and highways published in 2008, he said the Miyapur stretch of NH 65 has been labelled a 'black spot' for pedestrians for years. "As per a directive of the Indian Roads Congress (IRC), states are suggested to have a mid-block crossing every 250 m, especially since intersection crossings tend to be very far away," he said.
Among the least safe roads were the 54 km arterial and other primary roads listed in table-2. Of all the fatal pedestrian crashes in Hyderabad during the study period, 27 per cent occurred on these roads
Also, 50 per cent of all the total deceased were aged between 31 and 60, with 22 per cent of them being minors, children, and senior citizens. Sixteen per cent were older than 60 years.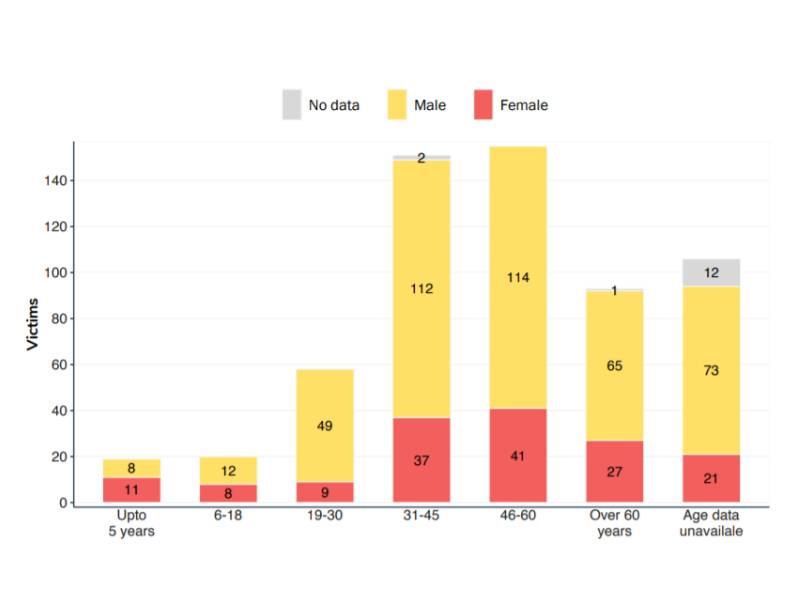 Data on the age of the deceased in the 568 pedestrian crashes between 2017-19
Source: The Footpath Initiative