Hyderabad: Akash (name changed) works as an assistant cameraman at a regional news channel in Hyderabad. On December 10, a Kukatpally court that hears drunk drive cases fined him Rs 8,000. A few days ago, he had been caught by traffic cops at Pragathi Nagar, his blood alcohol level showed 103 mg/ml against the legal limit of 30 mg/ml.
While Akash walked away paying a fine, Satish (name changed) was handed a 3-day sentence by the same court over a blood alcohol level of 48 mg/ml.
When this correspondent enquired with the court authorities on why Satish was convicted despite having less than half the blood alcohol level of Akash, the answer was, "the accused (Satish) is a driver by profession and conviction of drivers may reform them".
The baffling reply led to this correspondent to dig deep into records. To one's surprise, on November 17, a waiter named Hemanth had been sentenced to 4 days in jail. His 'score' was 56 mg/ml. And the man was not a driver.
An independent probe led to a curious case of a massive drop in drunk drive convictions. Statistics revealed that between September and November, convictions dropped by a high margin and parallelly the number of fines imposed skyrocketed.
For instance, between January-August, the number of convictions stood at 5,246 – an average of 400 a month. However, it shrunk to 448 in the last 3 months ending November 30. The jail sentence has not crossed 171 with a change in the judicial bench.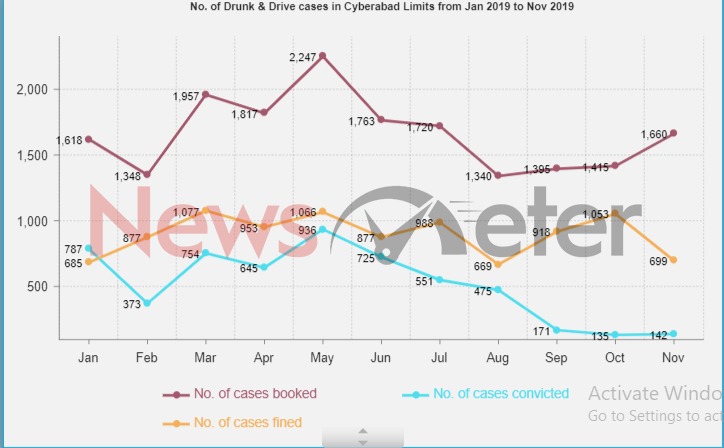 A senior officer with the Cyberabad Traffic department, on the condition of anonymity, said, "The fear of convictions in drunk drive cases has died down. Those booked under DD are approaching legal help and able to escape with a fine. This has been prevalent only in recent times. Earlier, above the permissible limit meant jail. The fear of imprisonment had gripped motorists."
NewsMeter has learnt that those within 100 mg/ml of blood alcohol level are being fined, unlike earlier times when all above 40 mg/ml were sent to jail. Sources said people with access to legal help can get away with a fine even if they cross 100 mg/ml.
Under the Cyberabad traffic jurisdiction, cases from Kukatpally, Miyapur, Gachibowli, Madhapur and Bala Nagar are heard at the Kukatpally court. All cases from the IT corridor are referred to the same court.