By Rajanikanth Poolla, weather analyst
Hyderabad: With the Cyclone Amphan undergoing a rapid intensification phase on Sunday night, the IMD designated it as a 'super cyclone' by Monday afternoon.
As per IMD's latest bulletin on Tuesday, Cyclone Amphan lays centered over West Central Bay of Bengal, 520 km South of Paradip. It is expected to cross West Bengal, Bangladesh coasts between Digha and Hathia islands between 2.30 pm and 5.30 pm on May 20 as a very severe cyclonic storm. Wind speeds during the landfall can be 155-165 kmph increasing to 180 kmph.
Currently, Cyclone Amphan is designated as super cyclonic storm as per IMD scale and Category-5 hurricane on Saffir-Simpson scale, both of which are maximum/peak intensity category in the respective scales.
Abundant moisture supply from Indian Ocean and high sea surface temperature of Bay are considered to be the reason behind rapid intensification to peak intensity by the experts.
As per the IMD, the storm currently packs a peak wind speed of 222 kmph gusting to 250 kmph. 1999 Odisha Super Cyclone is by far the most intense storm recorded in the Bay of Bengal that unleashed winds of 260 kmph and killed thousands, besides causing devastating damage to crops and property.
Emerging environmental changes over North Bay of Bengal are not conducive for further intensification of the storm and this indicates a slight weakening trend to take place and the storm may make landfall as a very severe cyclonic storm, still potentially devastating, says weather analyst Rajanikanth Poolla. Unfavourable wind shear (changes in direction of wind with height) is considered as the primary reason for this weakening.
Right from its origin, the cyclone maintained a near northward trajectory driven by an anti-cyclonic circulation over East Bay of Bengal & Myanmar. Emerging western disturbance from Afghanistan is also known to be exerting influence on the storm's path. Upper tropospheric winds over the cyclone are showing a slightly curved trend towards the coast, so the cyclone is expected to take a slight curve to the East causing it to move in NE direction towards Bangladesh/West Bengal coasts.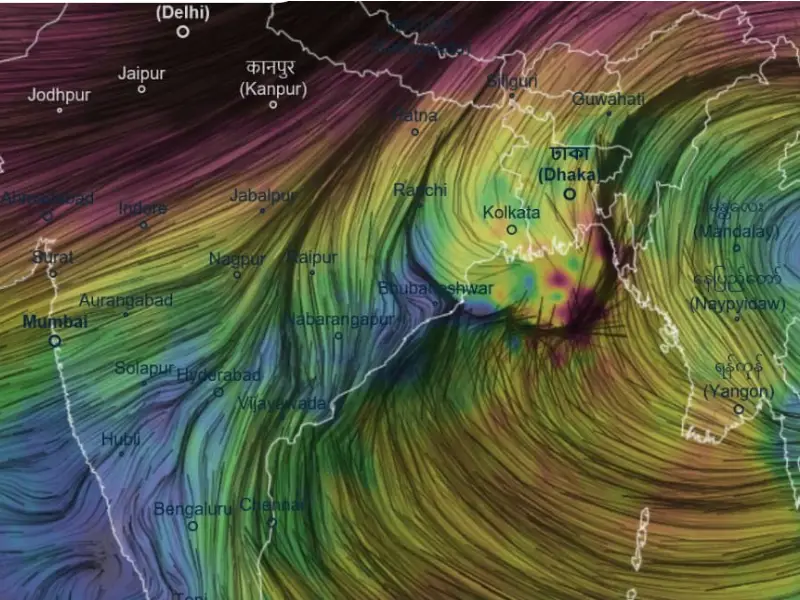 Expected landfall area is a well-known mangrove forest of Sundarbans. Mangroves are well known to resist storm surge however, INCOIS (Indian National Centre for Ocean Information Services) has warned of significant sea water incursion into the coast with wave heights of 3-7 mts.
Most casualties during tropical cyclones occur as a result of storm surges. The deadliest storm surge on record was the 1970 Bhola cyclone, which killed up to 5,00,000 people in Bangladesh.
Heavy to very heavy rains with winds reaching 55-65 kmph are expected over North Odisha today and very heavy rainfall with winds peaking to 185 kmph over South 24 Paraganas district West Bengal are expected by the IMD.
This cyclone is also expected to trigger heatwaves across Telangana, Rayalaseema, Coastal Andhra Pradesh and central India in the upcoming week as the cyclone consumes most of atmospheric moisture. Dry, hot winds are likely to blow from the northwest.