Hyderabad: Cyber attacks and data breaches underwent a wild increase during the pandemic, says a report released by Verizon, Government of Telangana, and Hyderabad Security Cluster.
The Cyber Threat Readiness Analysis Report to combat the rise of cybercrime during COVID-19 pandemic was released on Tuesday, 28th July. It was part of the Verizon Data Breach Investigation Report 2020 and focused on the three months where India was undergoing lockdown. It focused on period ranging from 1st March to June end.
The report found that in the last three months alone, 474 cases of data breaching were reported. Out of these, 128 were malware attacks, while 34 were confirmed ransomware breaches. "Cyberfraudsters also used terms related to COVID-19 such as masks, oxygen, sanitizer etc to garner the attention of users," said Prashant Gupta, Head Solutions, Asia Pac, Verizon.
He further added, "This change in platforms has created the potential for confusion, emission, and mistakes, and cybercriminals capitalize upon this." He also said that this digital convert is usually full of security errors since we do not verify modes of sharing information, which gives a broader attack base to hackers.
The report disclosed that 86% of the cyber attacks happen for financial gain, and if we work to create awareness, 97% of them can be prevented.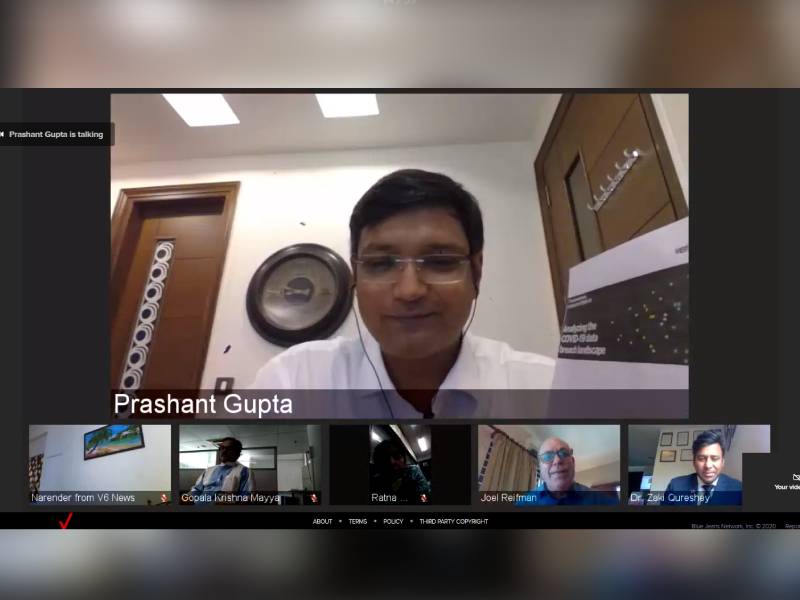 Webinar of the report launch
Visualizing the current period as a post-war scenario, Partha Sengupta, ITSS, said, "While previously governments worked to create physical infrastructure after wars, we now need to focus on creating a safe digital infrastructure." He added that this shift has resulted in an increased work-load on digital assets and that companies should make attempts to educate their employees on data breaches.
Expressing that data breach is a severe threat to national security, Anjana Kumar IPS, Director National Industrial Security Academy (CISF), said, "National Informatics Center has their hands full on a daily basis trying to tackle challenges of a data breach. There needs to be a collaboration with government bodies to understand the actual threat."
She further added that while the world was dealing with nuclear deterrents in the last century, it should now deal with digital deterrents.
Adding to the conversation, Jayesh Rajan, Principal Secretary IT & C, Industries, said that while the government has been pushing digitization, it is being hindered by the mindset people have towards digital transactions. "A surge in Paytm KYC frauds and ransomware has resulted in people withdrawing from digital modes of transaction. "We have to restore people's trust in the digital realm by making platforms safe."
Faizan Mustafa, Vice-Chancellor, Nalsar University of Law, said that in the absence of a Data Protection Bill, India faces a dormant threat in breaching of any kind. Other members on the panel also accoladed Telangana for setting an example in creating awareness about cybersecurity.
The Data Breach Information Report (2020) analyzed 32,002 digital security breaches and confirmed 3,950 of these.