Hyderabad: The Telangana government revoked the license of  Somajiguda-based Deccan Hospital for treating patients affected by COVID-19. The action is a result of several complaints against the hospital for charges excess for COVID treatment.
The order said,  that,  while the government had fixed a cap on the amount that can be charged for COVID treatment at a private hospital, the Deccan Hospital has continuously asked for a much larger sum.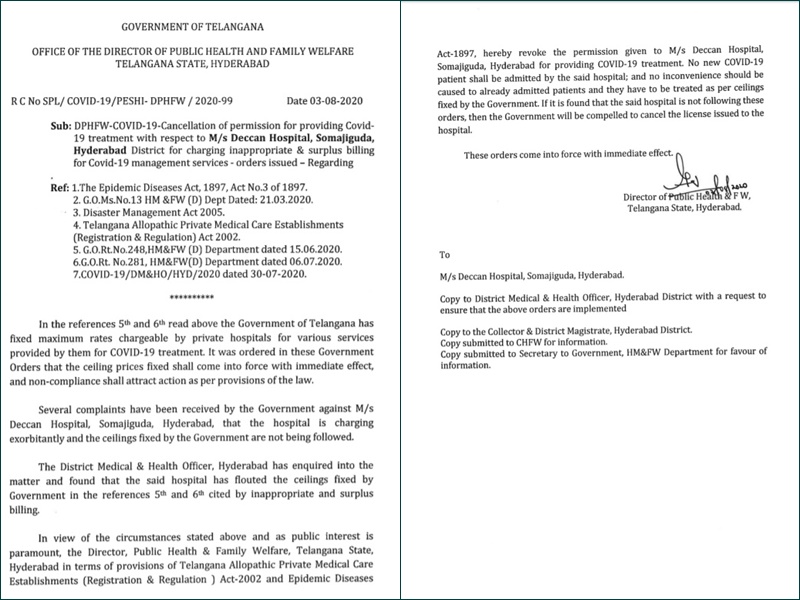 This comes days after several reports were released of the Deccan Hospital charging COVID patients a sum of over 8 lakhs, and holding back a deceased's body over non-payment of the bill.
The District Medical and Health Officer found, after investigation, that the Somajiguda branch of the hospital was not following the cap fixed by the government.
In June, the Telangana government had fixed rates for private hospitals- Rs 4000 per day for isolation ward, Rs 7,500 per day for ICU room, Rs 9000 per day for ICU room with a ventilator.
Citing public health reasons, the Director Health and Family Welfare, Telangana, revoked permissions to treat any COVID patients at the hospital, under the provisions of Telangana Allopathic Private Medical Care Establishments (Registration and Regulation) Act 2002 and Epidemic Diseases Act 1987.
Newsmeter has tried to reach out to the Hospital owner, their version will be updated soon.
Deccan Hospital 'detains' advocate, asks him to pay Rs 3L despite COVID -Ve
Hyderabad: Days after refusing to hand over the body of a COVID 19 victim to his kin, Deccan hospital allegedly detained an advocate and forced him to pay Rs 3 lakh though he was tested negative.
Sridhar Singh, from Vijay Nagar Colony, has approached police and lodged a complaint against the hospital.
Officials of Punjagutta police station said that they are verifying the allegations and collecting evidence. Based on the findings, they would proceed against the hospital, the police said.
The 55-year-old advocate told the police that he was admitted to Deccan Hospital, Somajiguda on July 29 after he complained of fever and weakness.
After admission, his nasal and throat swabs were taken for COVID 19 testing. He tested negative, but the hospital authorities did not discharge him. He also stated that he was kept in the COVID 19 ward, along with other positive patients.
Singh said all the while, he was put through a lot of mental trauma. At the time of discharge, he was charged Rs 3.60 lakh. Though he had paid Rs 3 lakh, they did not allow him to leave the hospital and demanded Rs 60,000.
He said the hospital authorities did not provide him the RTPCR report initially. It was only after he persisted that they gave him the report. Singh alleged that with an intention to extract money, the hospital authorities kept him in the Corona ward.
Also read: COVID kills 3 from a family, Deccan Hospital holds back body over non-payment of Rs 8 lakh