Hyderabad:The Two Telugu speaking states, have proved to be rich even during the lockdown period. The GST collected in June 2020 in Telangana and Andhra Pradesh indicated high collections. As per the Goods and Services Tax (GST) report released by the Ministry of Finance, Rs 90,917 crore has been collected nationally as GST in June, 2020. Telangana reported a 3% increase in GST collection from June last year, while Andhra Pradesh collected 6% more.
The former contributed Rs 3,166 crores to the national GST in June, 2019, and Rs 3,276 crore in June, 2020. In Andhra Pradesh, Rs 2,232 crore was collected last June while Rs 2,367 crore was collected this June.
Andaman and Nicobar islands saw the highest growth, a whopping 160%, from June last year.
However, the revenue collected in June, 2020 through GST in the country, Rs 90,917 crore was a drop from Rs 99,940 crore collected in June 2019.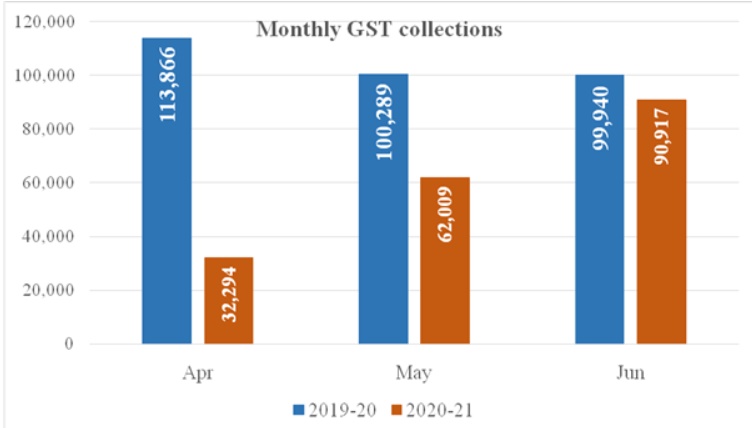 (Source: Ministry of Finance)
The report stated that Covid-19, along with relaxations granted by the government in filing returns and giving taxes, had affected the revenue collection for June, 2020. The tax collection, however, shows improvement from the previous months of pandemic-affected April and May.
While the report states that only 59% of the revenue collected in the first quarter of 2019 has been collected this quarter, several businessmen are yet to file their pending taxes for the month of May in the first week of July.
Of the total revenue collected this month, Rs 18,980 crore is the Central Goods and Services Tax (CGST), Rs 23,970 is the State Goods and Services Tax (SGST), Rs 40,302 is the Integrated Goods and Services Tax (IGST).
After regular settlement, Rs 32,305 crore (CGST) and Rs 35,087 crore (SGST) is the total revenue collected by the central government in June, 2020.