The Singapore government has taken action against a leader of the Progress Singapore Party for spreading wrong information about investments in Amaravati, the capital of Andhra Pradesh.
The island city-state invoked on Monday the Protection from Online Falsehoods and Manipulation Act (Pofma) to issue a correction direction to Brad Bowyer, a British-born Singapore politician. Bowyer was earlier associated with the People's Action Party.
Bowyer had published a Facebook post on November 13, 2019, alleging that the Singapore government had influenced a few decisions of state-run investment firms Temasek Holdings and Government of Singapore Investment Corporation (GIC). "… We also saw the recent canning of the Amaravati city project part of the S$4 billion already dumped into Andhra Pradesh by GLCs [government-linked companies] and related parties so India has not been so good an investment choice after all…".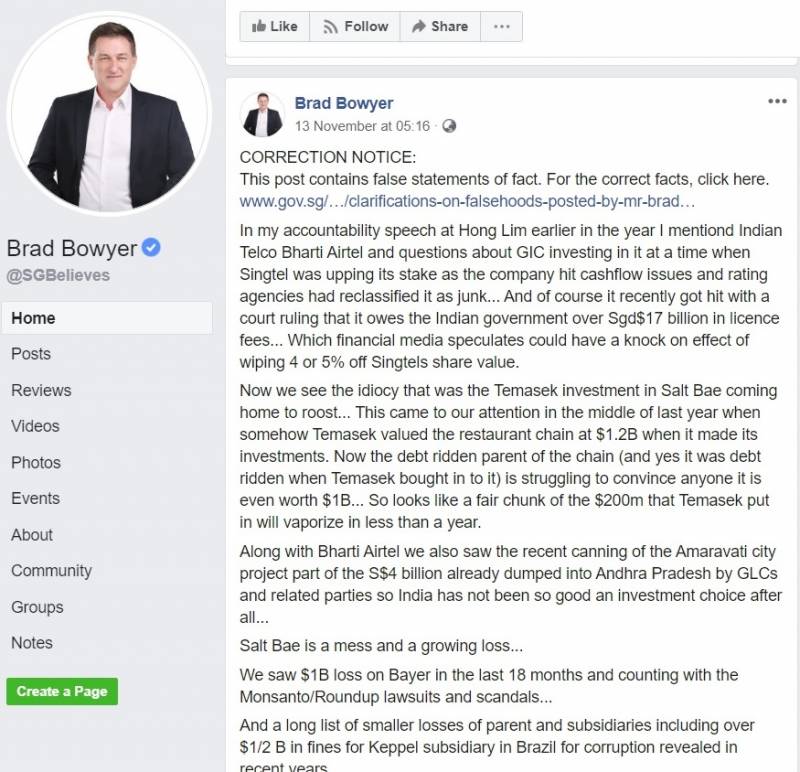 The Singapore government has issued a statement, stressing that it doesn't influence, let alone direct, the investment decisions made by Temasek and GIC. "Which companies they invest in, or divest from, is entirely the responsibility of their respective management teams. The Government likewise does not interfere in the commercial decisions of Temasek's and GIC's portfolio companies."
In response to the investment in Amaravati, the Singapore government wrote: "Mr Bowyer makes this sweeping statement but gives no basis for it."
The Singapore government explained, "There are implicit factual assertions that (1) a substantial part of S$4 billion invested in Andhra Pradesh was put into the Amaravati project; and (2) S$4 billion has been poorly invested ("dumped") by Government-linked companies ("GLCs") and related parties in Andhra Pradesh. These are false."
"First, the Singapore Consortium (comprising Ascendas Singbridge Pte Ltd (now part of CapitaLand Group) and Sembcorp Development Ltd) in the Amaravati project has stated publicly that the costs incurred have been limited to design services prior to commencement of execution works on the ground, amounting to a few million dollars. There are no billions of dollars involved," said the Singapore government.
It added, "Second, not only GLCs and related parties have invested in Andhra Pradesh. Several other Singaporean companies have also done so. An example of a non-GLC investment in Andhra Pradesh is Indus Coffee Pte Ltd, a subsidiary of a listed company in Singapore. "
Under the Pofma law, Bowyer was told to correct his erroneous Facebook post. Bowyer complied, posting a correction notice along with a link to the government's statement in which his falsehoods were outlined.
Along with the correction, Bowyer wrote: "I have no problem in following that request as I feel it is fair to have both points of view and clarifications and corrections of fact when necessary. I do my best to use public facts and make informed statements of opinion based on the details I have access too." He, however, added that Pofma was "rushed through".
The claim is FALSE.
Claim Review :
Singapore invest billions of dollars on Amaravati
Claimed By :
Social Media Users