Hyderabad: Over the years, we have seen many images and videos of cars that crash into trees and being damaged. However, we never watched a tree grow out of a car overnight. Few videos and images of this bizarre incident that occurred in Nantes, France are catching the attention of the whole world. The videos and pictures, which are viral on social media, show a fully-grown tree sprouted out of a white car parked on the street.
In the videos, we can see people flocking around the car and wondering how the tree grew out of a car overnight.
A twitter user shared the post in French, which translates to, "This car pierced by a tree surprised inhabitants of the Bellevue district. The explanation is called Royal de Luxe." #Nantes #SaintHerblain
Another Twitter user says, "In the night, a car pushed around a tree ... or else is it the tree that pushed the car into Bellevue area, to #nantes. We suspect in any case it is the new joke of the troupe @ royaldeluxe1."
Fact Check:
Both tweets had tagged Royal de Luxe. When we performed a reverse image search of one of the pictures, we found the image has been posted by the Royal de Luxe's Facebook page.
On November 18, 2019, Royal De Luxe company posted the picture in their Facebook page stating, "Right now is the season of Granny's range of rodeo cars. Granny plants a seed before parking the car, and when she comes back in the morning, she finds a huge tree. She laughs at it."
Therefore, this is, in fact, a piece of street art by Royal De Luxe. The next post even goes to show her at a market shopping for seeds.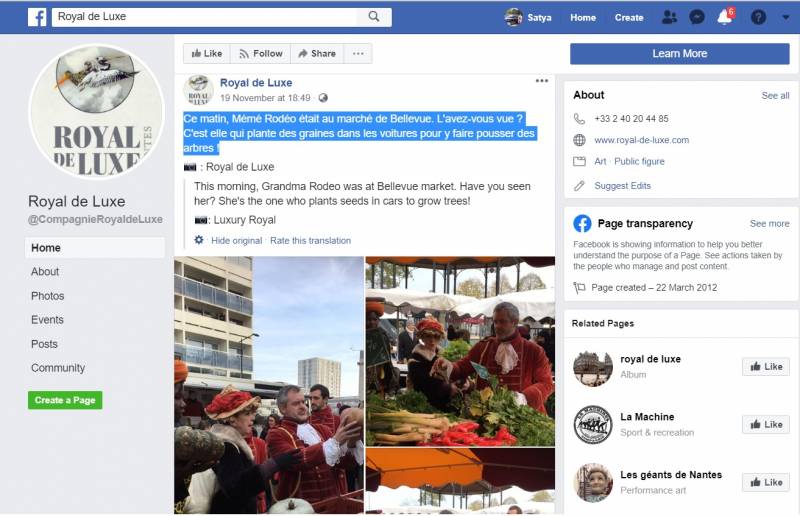 Obviously, all of this is in preparation for their next performance.
Royal de Luxe is a French mechanical marionette street-theatre company. Jean-Luc Courcoult founded the troupe in 1979 in Aix-en-Provence. After some years based in Toulouse, the company moved to Nantes in 1989. They presented multiday outdoor performances with giant marionettes (puppets) for people around the world for more than 20 years.
Therefore, the news of "a tree growing out of a car overnight" is FALSE. It is an art installation by a street theatre called Royal de Luxe in Nantes, France.
Claim Review :
A tree grow out of a car overnight
Claimed By :
Social Media Users