Fact Check: Did a monkey actually ring the bells on a Dwajasthambam in Ayodhya Ram Mandir?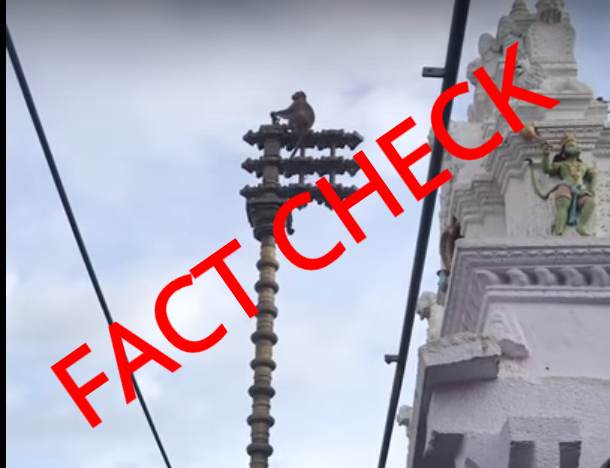 Hyderabad: A video is being circulated on social media in which a monkey is seen ringing bells on a Dwajasthambam by swinging it. It is stated in the video that this is a phenomenon during Aarti at Ayodhya Ram Mandir. It seemed very unlikely as there is no proper temple in Ayodhya as of now.
Though many Facebook and Twitter account shared this video in January 2019, the location is not mentioned in any of them.
Fact Check: NewsMeter team debugged this video to know further details. Firstly, Dwajasthambam, also known as kodimaram, is a flagstaff that is commonly seen in Hindu temples across South India and Sri Lanka.
It is typically seen in between the gopuram and the Maha Mandapa (Main Hall) of the temple. It is usually accompanied by a bali peetam and the vahana of the deity of the temple. Generally, Dwajasthambam is not found in North Indian temples, but they are a common sight in South Indian temples.
Therefore, it is likely that this incident occurred in a South Indian temple. After a reverse image search using the keywords "monkey ringing bells in the temple", we found many results on YouTube.
One of the YouTube video posted by Manjunath G mentioned that it is from Devarayanadurga Temple, Karnataka in its description. This video, was published in September 2018, was good quality enough to get some clear screenshots.
Devarayanadurga is located very close to Tumkur district in Karnataka and true to its name, 'Devarayanadurga' aptly means 'Fort of the God'. Though it had various other names, Mysore ruler Chikka Devaraja Wodeyar named it thus after he captured it during one of his victorious feats.
Since it is close to Tumkur and the IT city of Bengaluru, crowds swell here on weekends and public holidays. Here, two temples are built for God Narasimha, one of which is at the foot of the hillock called Bhoga Narasimha. The other temple, which is on the hillock called Yoga Narasimha.
When searched with the keywords "Devarayanadurga Temple" we found a few travelogues on YouTube. We provide a link to one such video here.
In this video, we can see the same Dwajasthambam with the same carvings in Bhoga Narasimha Swami Temple.
Therefore, it is the Dwajasthambam of Devarayanadurga Bhoga Narasimha Swami Temple seen in our video, which featured the monkey ringing bells.
Hence, the claim that the video of the monkey ringing Dwajasthambam bells is from Ayodhya Ram Mandir is FALSE, and it is not recent. It is from the premises of Bhoga Narasimha Swami Temple, Devarayanadurga Hills in Karnataka.
Claim Review :
a monkey actually ring the bells on a Dwajasthambam in Ayodhya Ram Mandir
Claimed By :
Social Media Users