Highlights
Districts have been divided as 'Red Zone', 'Orange zone' and 'Green Zone'.

Red Zone - districts with large outbreaks and clusters

Orange Zone - districts which have not seen any new cases in the last 14 days
The central government after analysing the CoronaVirus outbreak in different Indian states, have marked certain districts/cities as 'hot spots', based on the areas where large COVID-19 cases have been reported.
Districts/ cities were marked after a significant spread of the disease and in according to the guidelines issued by the ministry of Health and Family welfare (MoHFW)- Government of India.
Notably, A red zone district cab be removed to the green zone if there is no new cases seen in the last 28 days and an orange zone district can be removed to the green zones if there is no new cases in the last 14 days.
Andhra Pradesh:
Out of the 13 districts: 11 districts/ cities have been marked as Hot spots.
Anantpur, Chittor, East Godavari, Guntur, Kadapa, Krishna, Nellore, Kurnool, Prakasam, Sri Potti Sriramulu Nellore, West Godavari. While Srikakulam and Vizianagram are marked as Green zones.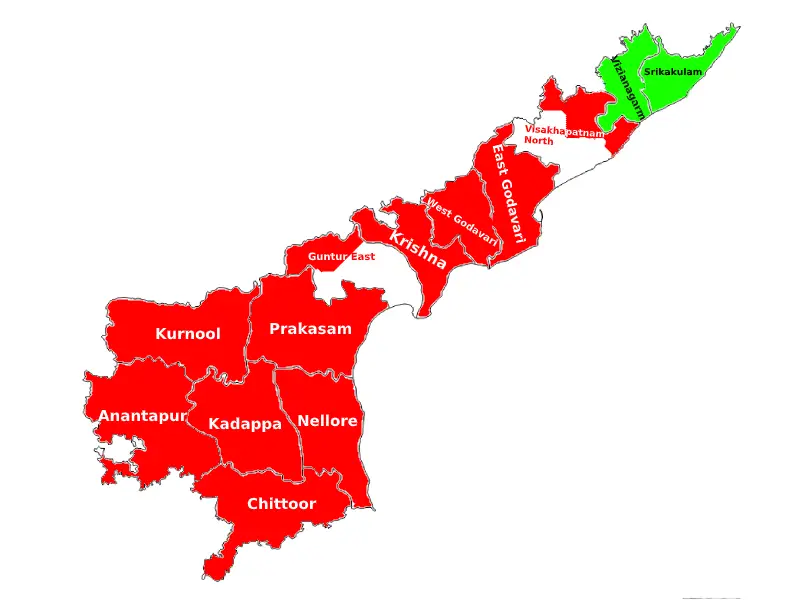 Andhra Pradesh has reported 510 COVID-19 cases and four COVID-19 deaths in the past one week (from April 24 to April 30), with an average of 72 cases per day. The total number of coronavirus cases in the State now stands at 1,403, including 1,051 active cases and 31 deaths.
As on April 30th, Andhra Pradesh has conducted 94,558 COVID-19 tests with an average of 1,771 tests per million population, Chief Minister YS Jagan Mohan Reddy, said.
Of the 510 COVID-19 cases in the last seven days, three districts Krishna, Kurnool and Guntur districts accounted for over 78 per cent of cases (402) cases in the State. The remaining COVID-19 affected districts (nine districts) contributed 108 cases.
In the past one week, COVID-19 has claimed four lives in the State. Two deaths were reported in Kurnool district while one death was reported in Krishna and Anantapur districts each.
India's COVID-19 positive rate and the mortality rate are 4% and 3.26% respectively, whereas, for Andhra Pradesh, it is 1.48% and 2.21% respectively. Apart from this, more than, 68,000 rapid tests have been conducted, the state authorities informed.
Telangana
Based on the number of COVID cases, the center has marked Hyderabad, Jogulamba Gadwal, Karimnagar, Medchal, Nalgonda, Nirmal , Nizamabad, Ranga Reddy and Warangal urban as hot spots.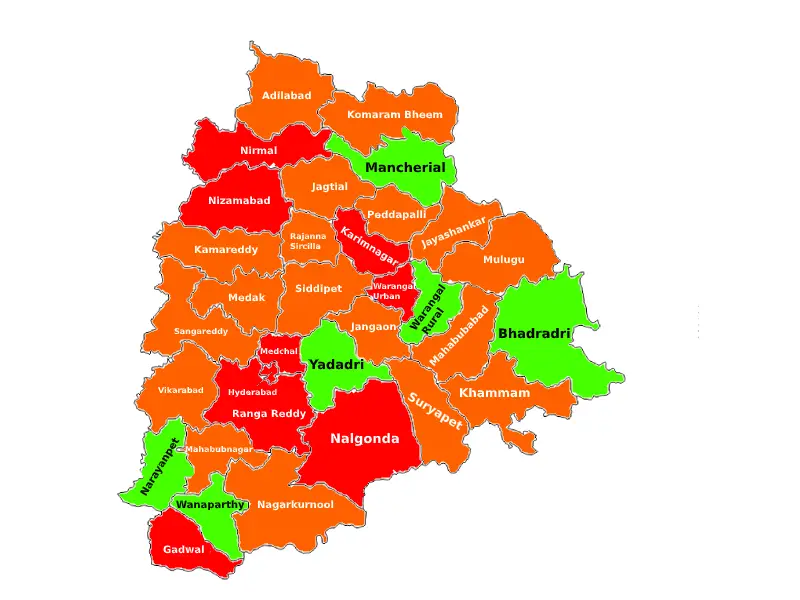 Meanwhile, the state reported 7 new COVID cases on April 29th, taking the tally to 1016 positive cases, of which 582 are active, while 409 are cured and discharged.
Telangana government claimed that, 11 districts in the state, namely, Siddipet, Mahbubnagar, Mancherial, Narayanpet, Wanaparthy, Peddapally, Warangal (rural), Bhadradri, Nagarkurnool, Mulugu and Yadadri, are COVID free. These districts now have zero COVID cases.
The state government officials have restricted movement to these districts, however following the orders of the Ministry of Home Affairs, migrant workers stranded in different states get a nod to return home but by following certain guidelines.