Hyderabad: Several social media users have claimed that Bollywood actor Aamir Khan met two terrorists during his trip to Mecca. They have also claimed that Khan did not tweet about actor Sushant Singh Rajput's death.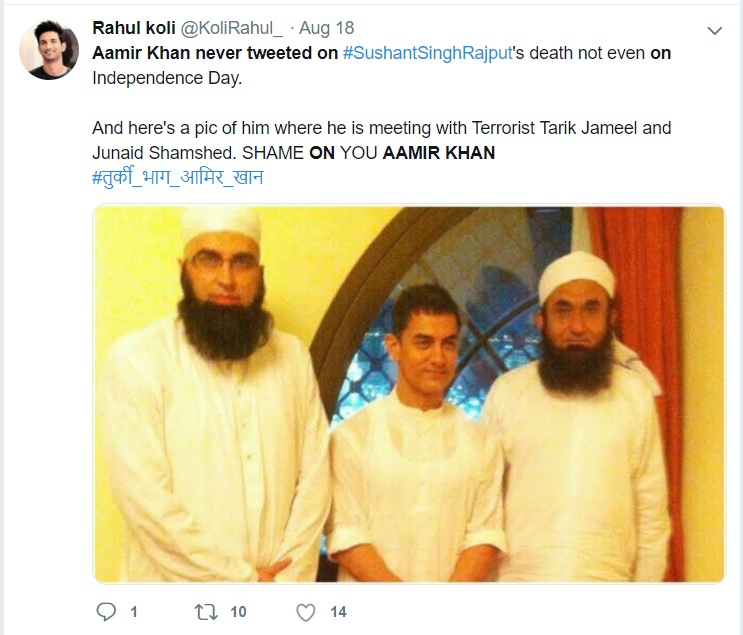 The posts can be viewed here.
A Twitter user, Shivam Rajput, tweeted, "Aamir Khan never tweeted on #SushantSinghRajput's death not even on Independence Day. And here's a pic of him where he is meeting with Terrorist Tarik Jameel and Junaid Shamshed. SHAME ON YOU AAMIR KHAN (sic)." He then shared a photo of Khan with two men.
Here is a screenshot of the post: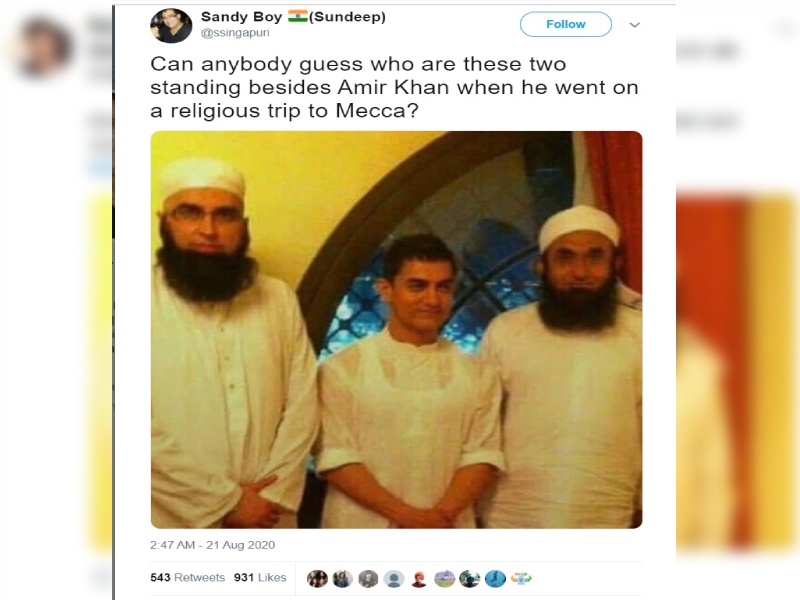 Many shared the photo on social media and raised questions about the two men seen with the actor.
Click here to view archive
Fact Check:
The claim that Aamir Khan met two terrorists is FALSE. However, it is true that he has not made any statement regarding Rajput's death.
NewsMeter checked Khan's official Twitter account and found no tweets on the actor's death.
Meanwhile, we performed a reverse image and found an article by The Express Tribune dated 14 December 2016 with the same photo. The article reported Khan's reaction to Junaid Jamshed's death. The actor said he had met Jamshed when he went for Hajj with his mother. "I met him when I went for Hajj with my mother, and a few other times and each time I found him to be a noble person," he said.
The viral claims on social media have not only got Junaid Jamshed's name wrong and identified him as Junaid Shamshed, but have misidentified him as a terrorist. Jamshed was a Pakistani recording artist, television personality, fashion designer, occasional actor, singer-songwriter, and religious preacher. The other person in the picture who is also identified as a terrorist is Maulana Tariq Jamil, a Pakistani Islamic television preacher, religious writer and scholar.
NewsMeter also found a video on YouTube where Jamshed spoke about meeting Khan and Tariq Jamil at Hajj 2012 Karuguzari.
In another YouTube video, Maulana Tariq Jamill spoke about the power of showing love when he met Khan during Hajj 2012.
An article by The News Tribe, dated 27 November 2012, confirms that the viral picture was taken when Khan met Tariq Jamil and Junaid Jamshed during his Hajj trip.
Jamshed had posted the same photo on Twitter in 2013.
Thus, the claim that Aamir Khan met two terrorists during his trip to Mecca is FALSE. The two men in the photo are Junaid Jamshed, a Pakistani television personality, and Maulana Tariq Jamil, a Pakistani Islamic television preacher.
Claim Review :
Aamir Khan meet two terrorists during his trip to Mecca
Claimed By :
social media users