Fact Check: Amitabh Bachchan visited Haji Ali dargah after recovering from Coronavirus is FALSE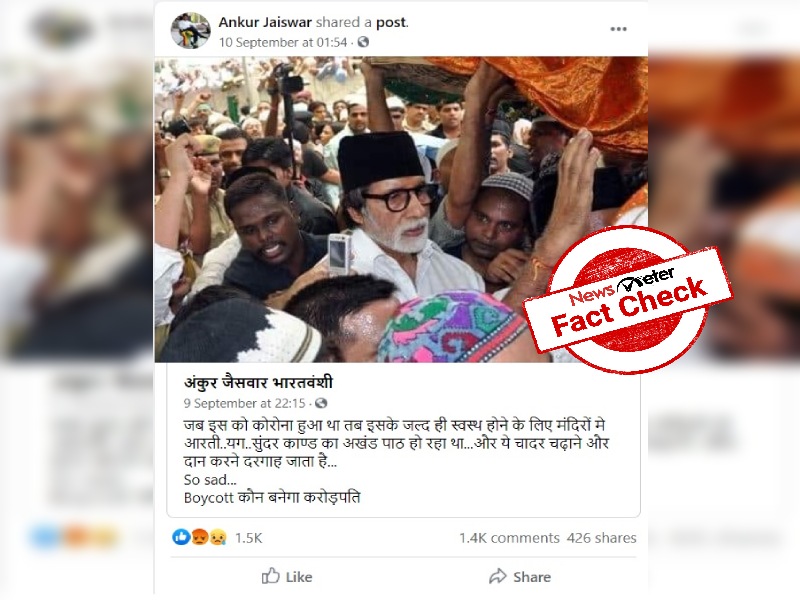 Hyderabad: A viral picture of Amitabh Bachchan on social media claims that people worshipped in temples for his speedy recovery when he tested positive for Covid -19 but that after recovering, Bachchan went to Haji Ali dargah in Mumbai to offer a blanket. In the picture, Amitabh Bachchan is stuck in the crowd wearing a black hat. The post talks about "Boycott the show Kaun Banega Crorepati."
The caption accompanying the picture reads "Hail Lord Rama when he got infected with Corona, he went to the temple for his speedy recovery. Sundar Kand's unbroken recitation done and after he cured, he went to Haji Ali's dargah to offer a blanket. So sad. Boycott 'Kon Banega Karodpathi'
Another Facebook user post is also viral. Hundreds of people have shared the picture with false claims on Facebook. This post is also going viral on Twitter.
Fact Check:
This picture of Amitabh is more than nine years old and belongs to Ajmer Sharif, not Haji Ali Dargah. The claim is FALSE.
With the help of Google reverse search, we found an article published India Today in 2011 photo gallery that contained the viral photo. This picture was from July 4, 2011, when Amitabh Bachchan reached Moinuddin Chishti's Dargah in Ajmer, Rajasthan. During this, Amitabh wore a velvet shawl in the dargah.
The Hindu also published news about Amitabh's arrival at Ajmer Sharif. At that time, Amitabh said in the tweet that he has come after 40 years to Ajmer Sharif.
According to Amitabh, he visited the dargah to thank God as one of his wishes got fulfilled. By going to Ajmer Sharif, he opened the thread of the mannat he tied 40 years ago. Videos of Amitabh reaching Ajmer Sharif are also available on the Internet.
According to Livemint, due to Corona, Haji Ali dargah is closed at this time and will remain closed until further notice.
Hence, the claim is FALSE.
Claim Review :
Amitabh Bachchan visited Haji Ali dargah after recovering from Coronavirus
Claimed By :
Social Media Users