Hyderabad: Bollywood actress Kangana Ranaut has been attacking the Maharashtra government and Mumbai police for a long time on Twitter. Recently, the BMC vandalised her office citing some irregularities. Laterm she was provided Y Plus security cover by the central government following a request by Kangana's father to the Himachal Pradesh state government, which was forwarded to the Centre.
Meanwhile, a tweet by Maharashtra Navnirman Sena (MNS) chief Raj Thackeray and nephew of former Shiv Sena chief Bal Thackeray Raj Thackeray is doing rounds on social media. He was criticising his brother Uddhav Thackeray for vandalising the office of the actress in Mumbai.
The Hindi tweet in English translates as, "Uddhav you dropped Kangna's office today in Mumbai, dropped Baba Saheb's honour in front of the world, and also ended all our relations. Now there will be a religious war between Kauravas and Pandavas, in which I will stand in your opposition. ''
More than 3300 people have shared the tweet, and 10,300 people have liked the tweet.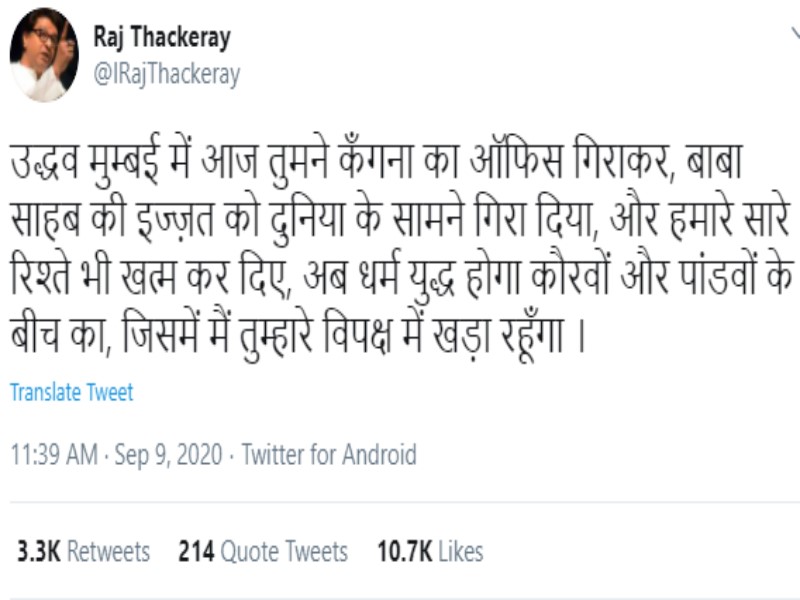 Many people have retweeted the same.
Fact Check:
Raj Thackeray has NOT aired his opinion about vandalising Kangana Ranaut's office or said anything about Uddhav Thackeray regarding this matter. The claim is FALSE.
Newsmeter found that the Twitter account named after @RajThackeray was created in July 2020 has about 11,000 followers. This account is not verified.
We found that the fake handle had frequently changed its username from @RealThackeray to @ThackerayOffic and then finally to @IRajThackeray29. Later that account was deleted.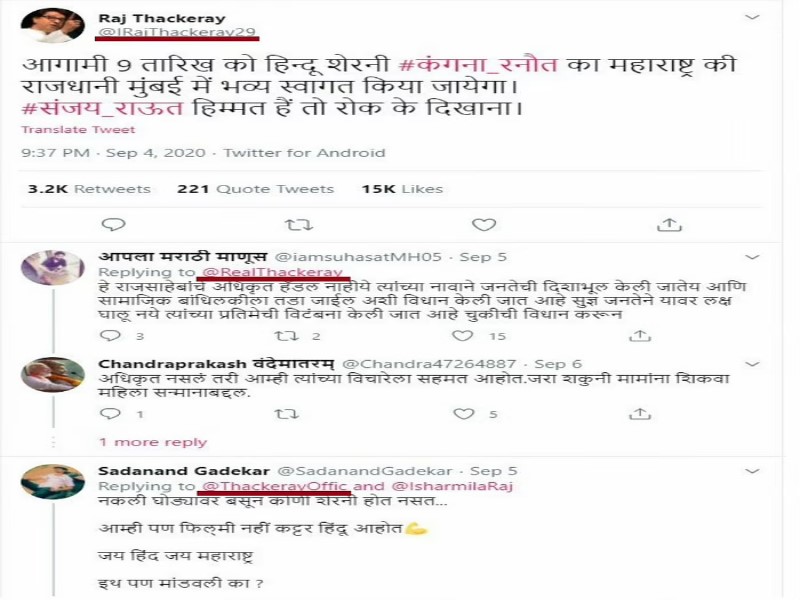 Raj Thackeray's real Twitter handle is @RajThackeray created in the year 2017 and has seven and a half lakh followers. We did not find any tweet related to actress Kangana Ranaut on this Twitter account.
Hence, the claim is FALSE.
Claim Review :
Raj Thackerays tweet against Uddhav and Kangana
Claimed By :
Twitter Users