Fact Check: Sambit Patra's claim that 26/11 terrorist Ajmal Kasab was fed Biryani in jail is False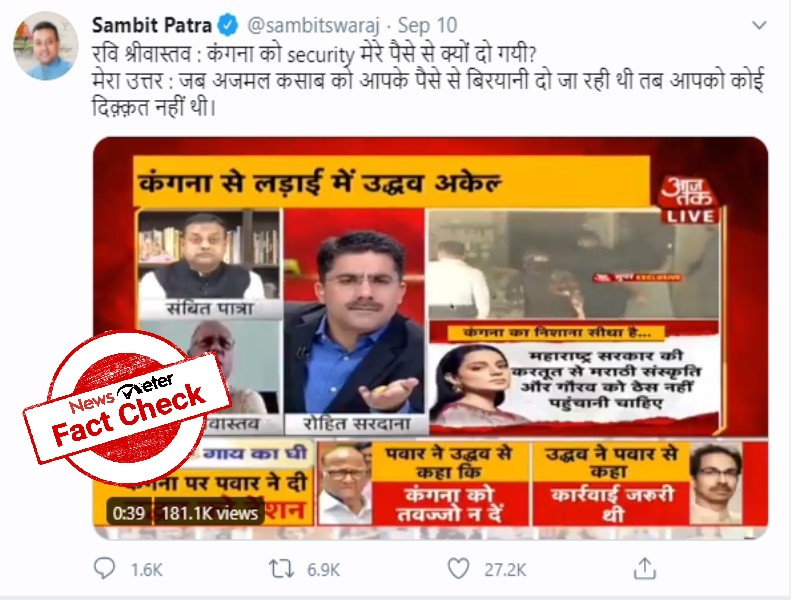 Hyderabad: A day after Brihanmumbai Municipal Corporation (BMC) bulldozed Kangana Ranaut's production house at Mumbai, Aaj Tak television channel held a high-powered panel discussion on its primetime show 'Dangal'.
One of the panelists, Ravi Shrivastava, questioned the Central government's decision to provide Y-category security to Bollywood actress from taxpayers' money.
On the show, BJP spokesman Sambit Patra claimed that terrorist Ajmal Kasab was served Biryani in jail. He later tweeted a clip from Aaj Tak's debate. "Why can't a lady who is facing threat to her life be provided security from taxpayers' money? Instead, a terrorist Ajmal Kasab was fed Biryani from the same money," reads the English translation of his argument on the show.
Fact Check:
The claim that Kasab was served biryani in jail is FALSE.
As per The Times of India report, Special public prosecutor Ujjwal Nikam said Kasab was never served Biryani.
As per reports, Nikam said "Kasab neither asked for Biryani nor it was served by the government. I concocted it just to break an emotional atmosphere which was taking shape in favour of Kasab during the trial of the case."
"Media was minutely observing his body language and he was well aware of it. One day, in the court room, he bowed his head and wiped his eyes. Moments later, electronic media broke the news-- tears in Kasab's eyes. It was Raksha Bandhan that day, and panel discussions were started in the media on it. Some guessed Kasab got emotional in memory of his sister and some even went on to question whether he was a terrorist or not," Nikam said.
"This kind of emotional wave and atmosphere was needed to the stopped. So, after that, I gave a statement to the media saying Kasab has demanded mutton biryani in the jail," he said.
Even the Economic times reported the same.
Hence, the claim is FALSE.
Claim Review :
Sambit Patra's claim that 26/11 terrorist Ajmal Kasab was fed Biryani in jail
Claimed By :
Twitter Users