Hyderabad: A picture is viral on social media where the Prime Minister Narendra Modi can be seen wearing a long white gown. In the picture, Modi is surrounded by men in suits and can be seen walking out of a museum in Xi'an, China.
The viral image has been shared on a Facebook page with title "India ki selfie queen"
Fact check:
This image is morphed.
Newsmeter performed a reverse image search and found a similar picture in the gallery of 'India today' (Picture number 11). The picture is titled, "PM Modi coming out from the Terracotta Warriors Museum in Xi'an". In this image, Modi is wearing a white kurta and holding a brown shawl.
The same image was also in the gallery of the 'Indian Express' ( picture 23) and was titled, "Prime Minister Narendra Modi during his visit to Terracotta Warriors Museum in Xi'an, China on Thursday".
Below is a comparison of the original picture and the viral image.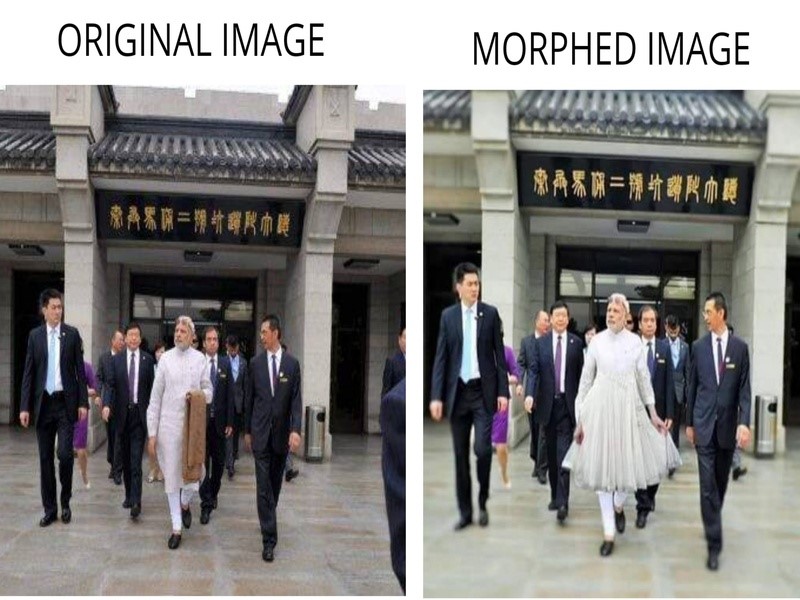 Narendra Modi had also posted the same image on twitter in May 2015 and wrote:" Hello from Xi'an, China. Landed to a warm welcome followed by a spectacular visit to the Terracotta Warriors Museum http://t.co/E0B2V4RpfU".
Hence, the viral image is morphed and shared with FALSE claims.
Claim Review :
Viral image of PM Modi in white gown
Claimed By :
Facebook Users