Hyderabad: After George Floyd's death in the US, protests have erupted across the country against police brutality. Many people have accused President Donald Trump of not addressing the problems of racism, police brutality, and inequality in the country.
Now, a video of Americans kicking and punching a life-size dummy of Trump has gone viral. A Twitter user shared the video and tweeted in Hindi which translates to, "Look what Americans are doing to uncle Trump who is being blindly followed by many."
The video has gone viral on Facebook, too.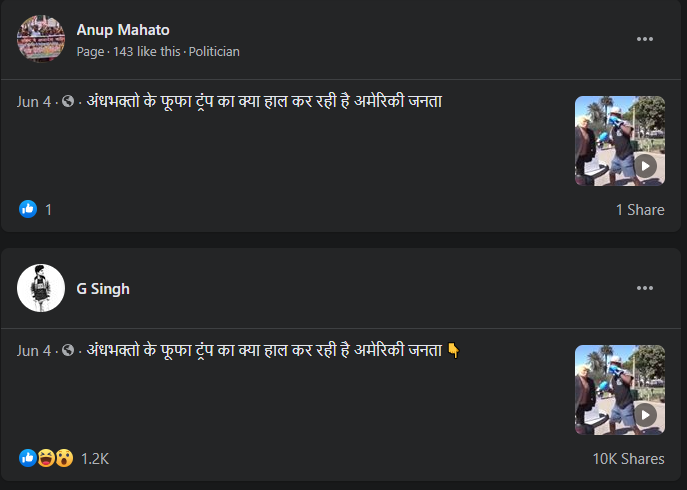 A YouTube channel 'Story World 2020' also shared the video with the title "People Boxing Donald Trump statue After GEORGE MOVEMENT IN AMERICA".
Fact Check:
NewsMeter extracted keyframes from the video and did a reverse image search using the keywords 'people hitting Trump's dummy'. This took us to two YouTube videos uploaded by the channel 'KyleLEVO' in October 2016. According to the description in the video, "The Presidential election between Donald Trump and Hillary Clinton is coming up Nov. 8th, election day. Both candidates are disliked in some form. Trump has several rape allegations and Hillary has her email scandal. So we got a Trump dummy and a Hillary dummy and let people punch the candidates. Share if your tired of this election (sic)."
The two videos are a compilation of people knocking around Trump and Hilary's dummy which were placed in different parts of the country.
The video was also shared by filmmaker Michael Moore and was retweeted by WHO board member Walter Ricciardi in April this year. Many people had attacked him for supporting violence against Mr. Trump. Mr. Ricciardi had, later, deleted the tweet, reported the Gateway Pundit website.
Hence, the claim that a video of people kicking and punching a dummy of Donald Trump amidst the George Floyd protests is false.
Claim Review :
Americans beating Trumps dummy amid George Floyd protest
Claimed By :
Social Media Users