Fact Check: Communally-charged posts claiming fruit juice seller laced juice with vasectomy meds are false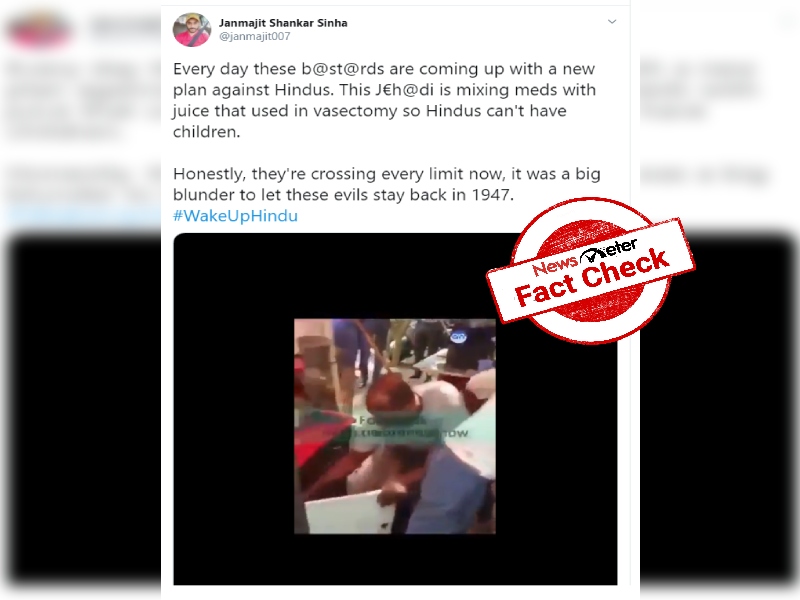 Hyderabad: Recently, a Twitter user posted a video showing a group of people confronting a fruit juice seller in Mumbai for allegedly lacing the juice with chemicals that is used in vasectomies. The user, @janmajit007, claimed that the man was targeting the Hindu community.
"Every day these [email protected]@rds are coming up with a new plan against Hindus. This J€[email protected] is mixing meds with juice that used in Vasectomy so Hindus can't have children. Honestly, they're crossing every limit now, it was a big blunder to let these evils stay back in 1947. #WakeUpHindu (sic)," @janmajit007 had tweeted along with the video. This tweet has over 1.4k retweets and 1.4k likes.
The same video with a similar claim was also posted on Facebook on 18 March 2020.
Archived links of the claims can be found here and here.
Fact Check:
The claims made in the video are FALSE. Vasectomy is a surgical procedure and it cannot be achieved by using meds.
NewsMeter searched using the keywords "India.awarenessnow", the watermark is seen in the video, and found a Facebook page called 'Awareness Now'. The same video had been uploaded on the page on 14 February 2020.
Archive of the the link can be found here.
The caption read, "This is what people were drinking in the name of Mosambi Juice". After checking the comments on this post, we understand that the hawker was selling juice made from artificial colouring and not natural juice. However, there was no mention of vasectomy drugs.
But most importantly, vasectomy is a surgical procedure. According to Harvard Health Publications, "A vasectomy is a minor surgical procedure that is done to make a man sterile. The procedure is usually done by a urologist, a specialist who deals with the male reproductive system."
NewsMeter contacted Dr. B. Venkateswar Rao, MD (Ophth), AIIMS, who also confirmed that vasectomy is a surgical procedure. "Vasectomy is a surgical sterilization procedure done in males. It is lasting (permanent) male birth control," he said.
Such communally-charged videos are not new. In March this year, false claims about a community mixing birth control pills in biryani had become viral.
Hence, the claims that a fruit juice seller mixed vasectomy drugs in the juice to target another community is FALSE.
Claim Review :
Communally-charged posts claiming fruit juice seller laced juice with vasectomy meds
Claimed By :
social media users