Fact Check: COVID-19 cannot be transmitted from smoke released during cremation of victims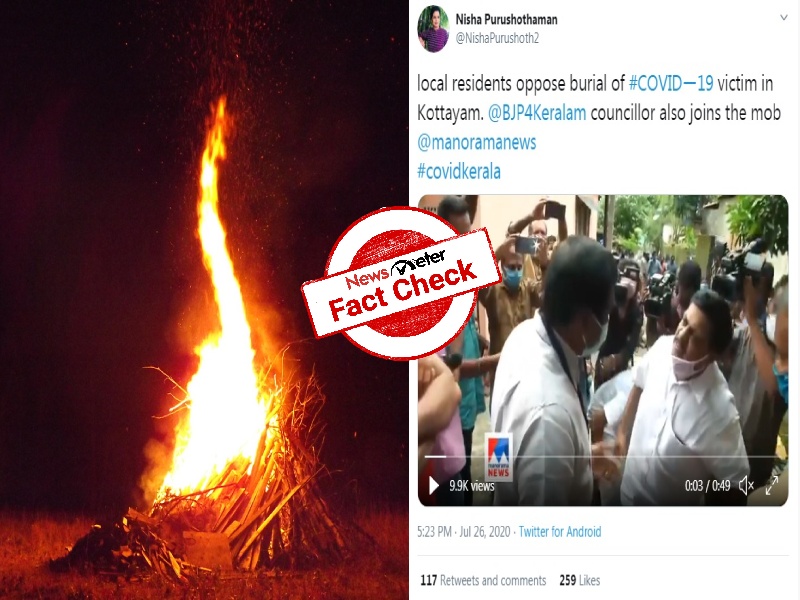 Hyderabad: Recently, a BJP councillor from Kerala tried to prevent the cremation of a COVID-19 victim in Kottayam alleging that the virus would spread from the smoke and ashes. The Kerala police booked the councillor, T.N Harikumar, and 30 others on 27 July.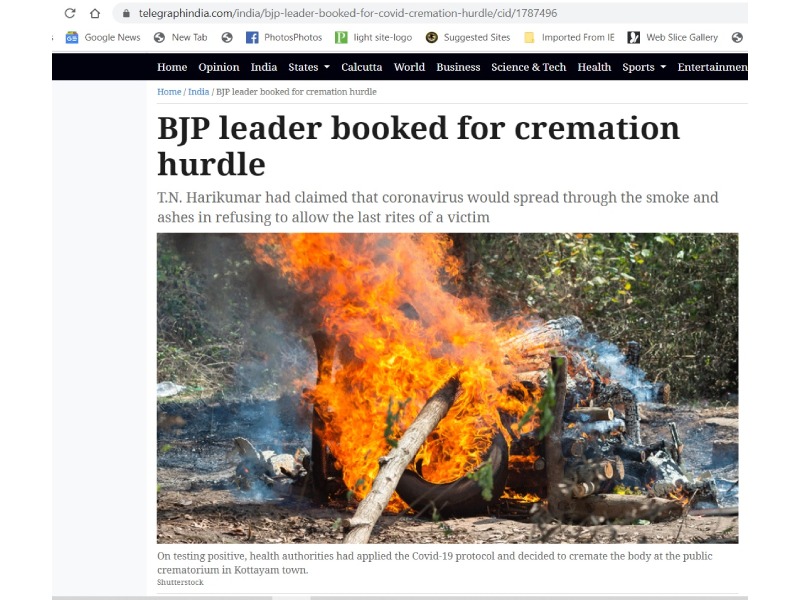 The BJP leader and the local people questioned why the COVID victim could not be buried in a Christian burial ground. Subsequently, the health officials explained that the COVID-19 protocol suggests that cremation was the safest option. A video clip of Harikumar yelling "You take it to your house" at a health official has been doing the rounds of social media.
NewsMeter received requests asking if the claims made by the Kerala BJP councillor are true.
Fact Check:
The claim that coronavirus can spread from smoke released during the cremation of a victim is FALSE.
According to an article published in the Deccan Herald on 3 April, the West Bengal health department had said there is no risk of transmission of the virus during the cremation of COVID-19 victims. In its bid to dispel such fears, the department had issued an advisory contending that no such risk was involved as officials were taking the necessary precautions.
According to Telegraph India, the BJP leader was booked for trying to prevent the officials from cremating the body of Ouseph George, 83, who had died on Saturday. He had tested positive for COVID-19 following his death. The officials had the consent of his family to create his body. The district health authorities followed the COVID-19 protocol and decided to cremate his body at the public crematorium in Kottayam town.
According to the guidelines issued by the directorate general of health services of the Union ministry of health and family welfare, cremation of COVID victims or the ash collected does not pose any risk.
Here are the guidelines about the safe management of dead bodies issued by the WHO.
Hence, the claim that COVID-19 can spread from the smoke and ash from the cremation of victims is FALSE.
Claim Review :
COVID-19 can be transmitted from smoke released during cremation of victims
Claimed By :
Social Media User