Hyderabad: Hetero had recently received the Drug Controller General of India's (DCGI) approval to manufacture and market Covifor in the country. The product is the first generic brand of Remdesivir, which is indicated for the treatment of Covid-19 patients in adults and children, hospitalized with severe symptoms of the disease. The drug is available in 100 mg vial (injectable). It needs to be administered intravenously in a hospital, critical care setting, under the supervision of a registered medical practitioner.
Meanwhile, a message is in circulation on the social media claiming that
"Hetero Drugs Ltd opened counter near Kukatpally Y Junction. They are selling Remdesivir injection 6 vials set for Rs 32,400. Don't go to chemist shop for this injection.
*Required Docs*
1) Copy of Aadhaar Card
2) Copy of Covid-19 Test Report
3) Doctors Prescription
4) Amount Rs.32,400/-
Contact person Mr. Srinivas, Azista Industries Private Limited, Moosapet 'X' Road
Ph.No -9440971560, 9440731560
Pl. Inform to needy persons"
This message is going viral on Facebook, Twitter, and also WhatsApp.
NewsMeter was asked to check the truth about the viral message.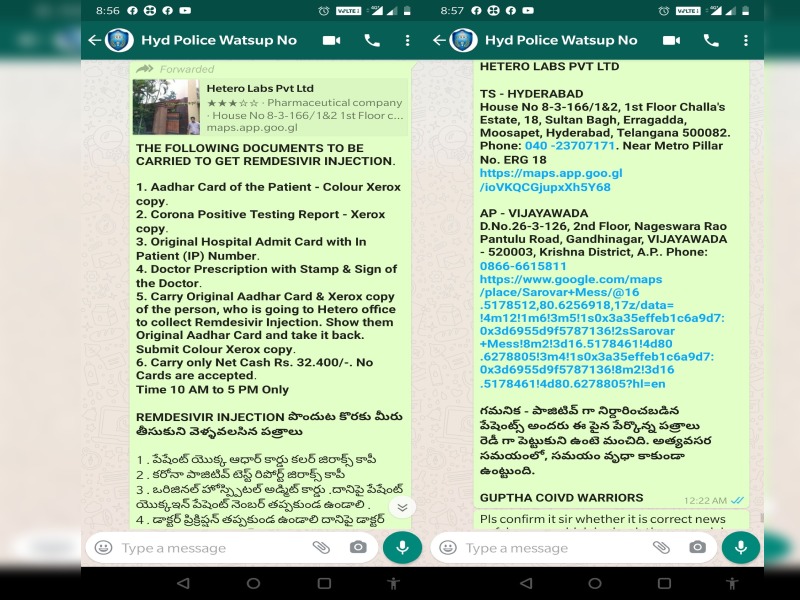 Fact Check:
The claim that Hetero Drugs has opened a separate counter to sell medicine for Covid-19 is TRUE.
Hetero Group has retail pharmacy chain "Hetero Pharmacy" in Hyderabad as well as cities like Vijayawada, Vizag, Tirupati, Rajahmundry, Kakinada, Nizamabad, Kurnool, Karimnagar, Mahabubnagar and Guntur of Andhra Pradesh and Telangana.
Each vial of Covifor (Remdesivir) injection costs around Rs 5,400 but many people started selling the vials in the black market, each for Rs 30,000-Rs 40,000.
According to the police, not only pharmacy owners but also the nurses, salespersons pharmacy staff at private hospitals are illegally procuring the medicine and selling them at exorbitant prices.
To restrict this black marketing, Hetero opened a separate counter at Kukatpally Y junction.
Any relative of the affected patient can produce a doctor's prescription along with required documents like a copy of Aadhaar Card, copy of the Covid-19 test report. As every doctor prescribes 6 vials of Covifor to the affected patient and each vial costs Rs 5,400, the total amount which is Rs 34,200 as mentioned in the message.
The drug, Covifor, is also being sold in the black market in Delhi at a price of Rs 45,000 to Rs 70,000. To restrict this, Hetero is supplying the medicine directly to the hospitals.
Though tried several times, NewsMeter could not connect to the given mobile numbers in the viral message. It is true that Hetero has opened a separate counter to sell Covifor injections which are used to treat severe cases of Covid-19 infection and the documents asked for in the viral message are also mandatory to procure the injection.
Hence, the claim is TRUE.
Claim Review :
Hetero is selling 6 vials of Remdesivir at Rs 32,400 at Kukatpally
Claimed By :
WhatsApp Message