Fact Check: Viral message that Sonu Sood can be called for help on toll-free number is TRUE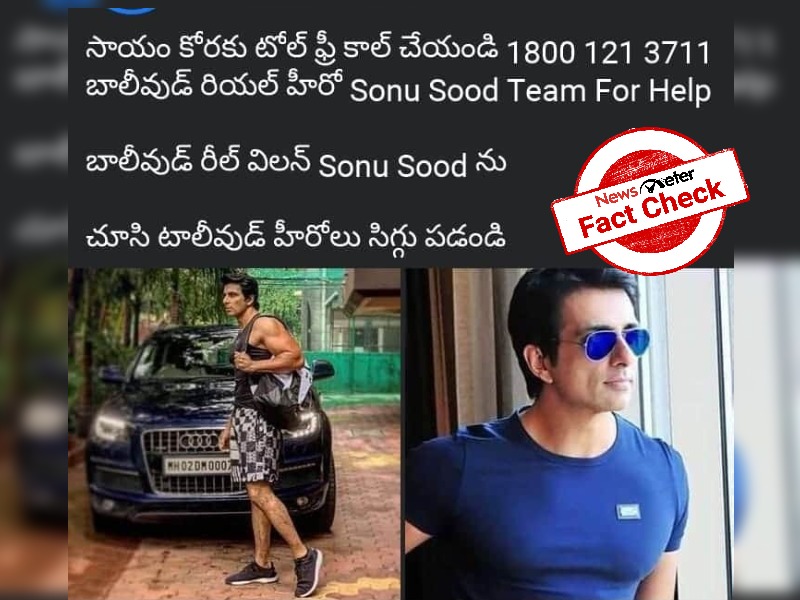 Hyderabad: Pictures of actor Sonu Sood were shared multiple times on social media along with a claim in Telugu, when translated states that "For help from real hero Sonu Sood, call toll-free number 1800 121 3711. Tollywood heroes must be ashamed of themselves after seeing Bollywood reel villain Sonu Sood.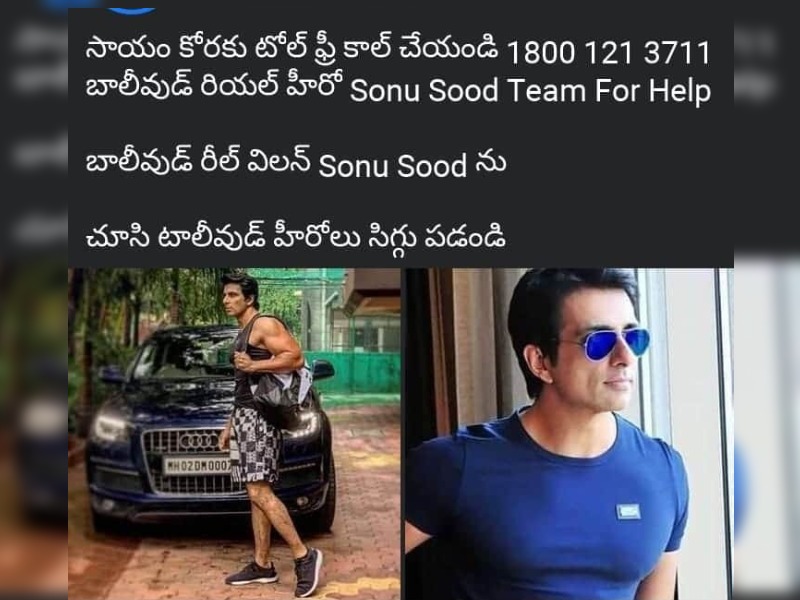 This claim is specifically going viral on WhatsApp.
Fact Check
The claim that anyone can call Sonu Sood for help at Toll-free number - 1800 121 3711 is TRUE.
When searched with keywords 'Sonu Sood Toll-free number', we found a video shared by Lallantop, which shows his tweet during the migrant worker crisis, stating that anyone can call him on this toll-free number.
Here is his tweet about the Helpline number:
According to NDTV, actor Sonu Sood launched a toll-free number on May 26 to facilitate migrants to reach their home. Through this toll-free number, one can easily reach out to Sonu Sood's team for help.
"I was getting a lot of calls... thousands of calls every day. My family and friends were busy collecting the data, then we realized we might miss out on a lot of people who will not be able to approach us. So we decided to open this call centre, it is a toll-free number. We have a dedicated team working on it, trying to reach out to maximum people and contact each and every person. We don't know how many people we will be able to help but we will try," Sood told PTI.
While talking to NewsMeter on July 24, 2020, Sonu Sood said, "I remember while sending all these migrants back to their homes I learned about these students stuck in these little states of Kyrgyzstan. There were about 2,000-4,000 students and when I contacted them, they were really in a very bad shape and one of them had also died. The god's been kind enough that they are guiding me right, we have our first flight back, the one to Varanasi, now even more to Vizag, Delhi, and Hyderabad. This is the best stage of my life, the best character I have ever played in my life, and am glad that God chose me to help these people. When they put all their faith in you and they know you are going to help them and the thought of being united with their parents and family makes them happy and I feel motivated to help them."
Hence, the toll-free number shared in the viral message is indeed the helpline number of Sonu Sood. The claim is TRUE.
Claim Review :
Sonu Sood can be called for help on toll-free number
Claimed By :
Social Media User