Hyderabad: After Prime Minister Narendra Modi called upon start-up entrepreneurs to 'team up for toys', said time to get vocal for local toys in the 68th edition of his monthly 'Mann ki Baat' on Sunday (August 30, 2020), the claim that Reliance has acquired "Hamleys Toys" and that the mainstream media is hiding this fact is going viral on the internet.
In 'Mann ki baat', the PM addresses the nation via radio.
A picture with text embedded in it is going viral on social media. The text on the image says that "VOCAL FOR AMBANI. India can become the world's toy hub. Says PM Modi. And the reality is that media is hiding from you is, Reliance has acquired "Hamleys Toys" which has a global footprint of 127 countries and the future group retail which now makes Reliance, the undisputed leader of retail industry."
The post shared hereby claims that 1. Reliance has acquired Hamleys Toys. 2. And the media has been hiding this issue.
Fact Check
The claim is Partly True.
Though it is true that Reliance Industries has acquired Hamleys Toys, this is NOT recent. They have acquired Hamleys in May, 2019 and several mainstream media outlets have reported this acquisition at that time.
Economic Times reported this deal, stating that Reliance Brands, a subsidiary of Reliance Industries NSE -0.29 %, has completed the acquisition of British toy retailer Hamleys for GBP 67.96 million (about Rs 620 crore) in an all-cash deal.
Reliance brands took over Hamleys Toys from a Hong Kong-based company C. Banner International. Hamleys, founded in London in 1760, is one of the world's oldest retailers of toys and has changed hands several times over the years.
According to BusinessToday.in, Mukesh Ambani-helmed Reliance Industries announced that it will acquire the iconic toymaker Hamley's for around Rs 620 crore.
Here are a few facts about Hamleys published by Business Today article.
1. Hamleys is the largest and oldest toy retailer in the world. It was founded by William Hamley in High Holborn, London in 1760. The 259-year old toy company was initially called Noah's Ark.
2. Hamleys' flagship store on Regent Street offers more than 50,000 types of toys on sale. Talk about the most enviable toy-train collection!
3. Regent Street is actually one of London's prominent tourist attractions that receive over 5 million visitors each year.
4. It might be a toy company and a harbinger of happiness for the young ones but its own history has been rife with tribulations. For instance, in 1901, its original High Holborn shop was devastated in a fire. Also during the Second World War, the Regent Street store was bombed five times.
5. In 1938, Queen Mary gave Hamleys a royal warrant, which was followed by a royal warrant in 1955 given by Queen Elizabeth. A Royal Warrant of Appointment is issued to traders who supply goods or services to the royal court.
6. While Hamleys has been operational since 1760, its first outlet outside Europe was opened in Amman, Jordan in 2008. The first outlet in South Asia opened in Mumbai in 2010. Hamleys now has 88 stores across the country.
7. In recent years, Hamleys has moved from one hand to another. In 2003, the toy company was bought by Icelandic company, Baugur Group. After Baugur collapsed, Hamleys went to the Icelandic bank Landsbanki. In 2012, French toy retailer Groupe Ludendo bought Hamleys before it was acquired by Chinese conglomerate C Banner. In has finally been bought by Indian conglomerate Reliance Industries.
Several media outlets like The Hindu Business line, Deccan Herald, Indian Express, Reuters, The Guardian have also reported this acquisition.
Though there is no mention of Reliance Industries on the website of Hamleys Toys, we can see the Mumbai address of Reliance Brands incorporated in the delivery policy page, which states that "Reliance Brands Limited, a company incorporated under the laws of India, having it's registered office at 5th Floor, Court House, Lokmanya Tilak Marg, Dhobi Talao, Mumbai City, Maharashtra – 400002, India ("Company"), operates www.hamleys.in and its mobile and tablet applications ("platforms"), which inter alia facilitates the purchase of electronics, toys, and such other products sold by the company under the 'Hamleys brand ("Products") to the users of the platforms ("Users")."
https://www.hamleys.in/delivery-policy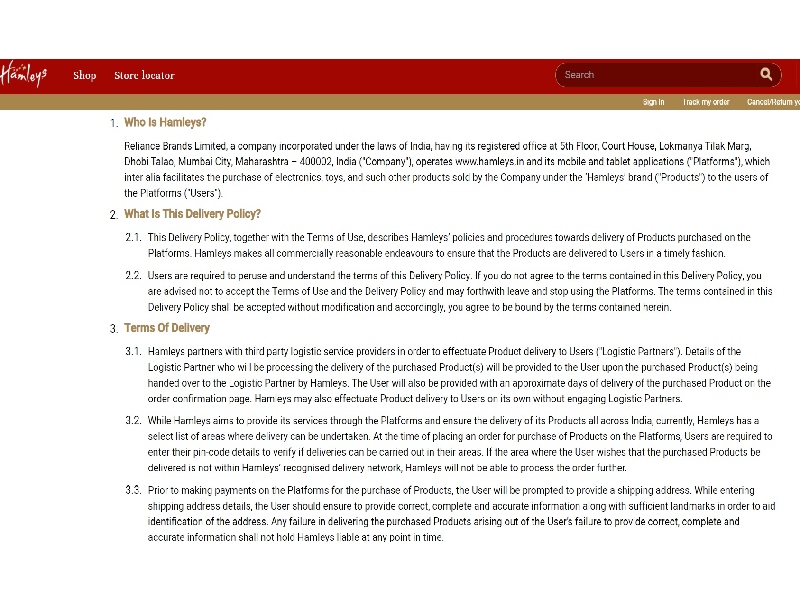 The acquisition of Hamley's Toys by Reliance was done in May 2019, which was widely reported by the media, Therefore the claim made in social media is only PARTLY TRUE.
Claim Review :
Did Media hide Reliance acquisition of Hamleys Toys??
Claimed By :
social media users