Hyderabad: US killed Iran General Qassem Sulemani in a drone strike, near Baghdad airport on January 3, 2020. This escalated the tension between the US and Iran, leading to Iranian missile attack on the Iraqi military bases housing US troops on January 8th, 2020.
After this event, a video is going viral on both Twitter and Facebook claiming that 'Iran fired 12 missiles at an American base in Iraq...old story. News report that - Iranian missiles missed. What is not talked about is the US automatic missile defense system that took almost all of them down.'
This video shows that none of the missiles could reach the ground and thus no damage was done. It has been incessantly shared on the facebook during the previous days.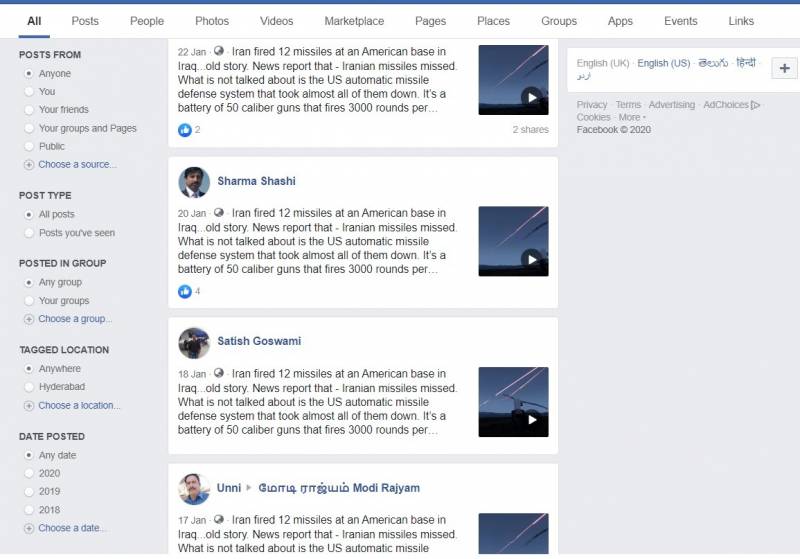 Fact Check:
Newsmeter performed a Reverse image search in Google and Yandex, using the keyframes extracted from the video with help of Invid tool. By performing Keyword search, we found a video on a Japanese Youtube channel has uploaded this video by the name 'The moment of shooting down the phalanx Tomahawk cruise missile Sius' in Japanese. This video was uploaded by the channel on June 24, 2019.
Video is also called CIWS Phalanx cruise missile BGM-109 Tomahawk ARMA3. It was also spread as Israel's latest anti-missile defence system, in Spetember 2019 and also as Russian anti-missile shooting down Israeli missiles in Syria. This has been fact checked by India Today at that time.
The video contains Computer generated Imagery and NOT real-life situation.
We also found various news articles reporting injuries to the soldiers present in the Iraqian military base, they shared traumatic pictures of the attack indicating that Iranian missiles indeed damaged the military base hurting the US soldiers based there.
Therefore, claim that the video shows the US anti-missile system bringing down Iranian missiles is FALSE. It is part of a Japanese based video game named CIWS Phalanx cruise missile BGM-109 Tomahawk ARMA3. US Soldiers were injured during these missile attacks and were sent for immediate medical care.