Hyderabad: Andhra Pradesh CM Jagan Mohan Reddy's three-capital plan has aroused mixed feelings among not only Andhra Pradesh citizens but also celebrities. While many oppose this idea, a few seem to be in support. One such support came from Tollywood's megastar and former Minister of State with independent charge for Tourism, Chiranjeevi.
A media statement was released in his name on December 21, 2019, stating that development was possible only with the decentralisation of administration and power. It added that Jagan Mohan Reddy had rightly conceived the idea of separate capital cities for different governmental functions.
The release observed that the state was not in a position to spend lakhs of crores of rupees on the construction of Amaravati. The presser was concerned about the plight of North Andhra and Rayalaseema regions if the government poured money into one area. "However, before giving the three-capital plan a tangible shape, Andhra Pradesh government should create confidence among farmers who gave their lands and do justice to them," the statement suggested.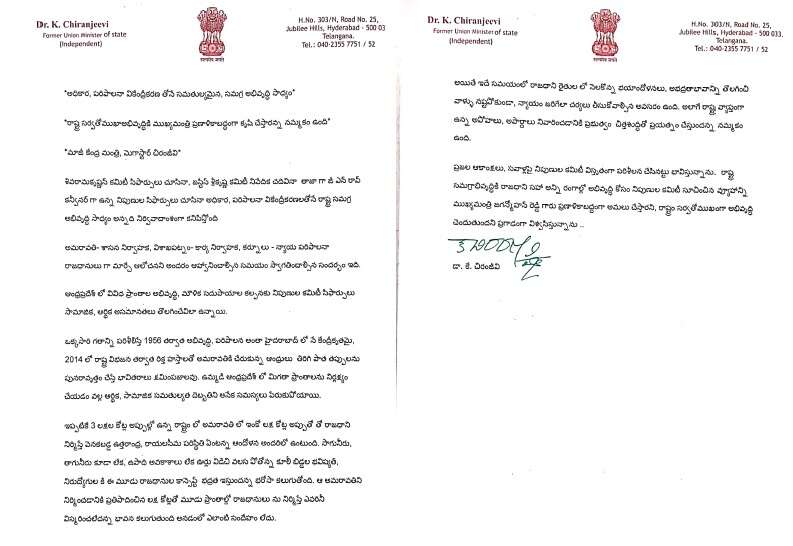 However, things took a different turn when another presser in the actor's name, released on December 22, suggested that he neither support nor condemn CM Jagan Mohan Reddy's proposal. The note also stated that he would be entirely concentrating on making movies and entertaining the audience.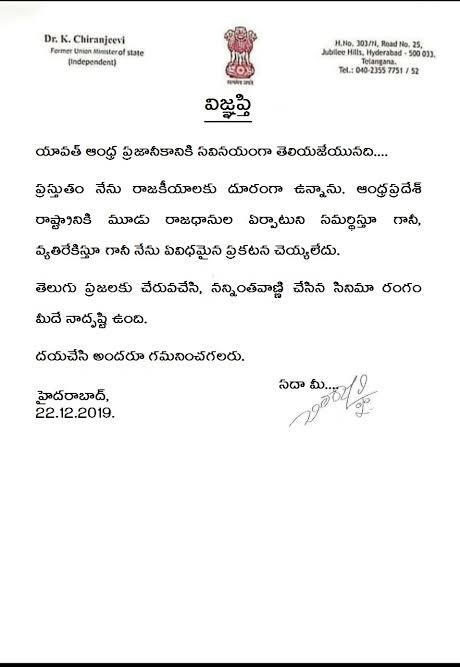 Fact Check
Both notes use the same letterhead, but the signature on the presser released on December 22 seems to be different from other pressers with the same header. Moreover, the actor had clarified that he issued the December 21 release, supporting Jagan's three-capital idea. He added that the one from the next day is a fake, which was released with malicious intent.
Therefore, the note circulated on December 22 in megastar Chiranjeevi's name, opposing his support for AP CM Jagan Mohan's three-capital idea is FALSE.
Claim Review :
Chiranjeevi support three capital formula
Claimed By :
Social Media Users