Fact Check: Following the Gandhi pedestal controversy, did YSRCP adorn a Sai Baba idol with their flag?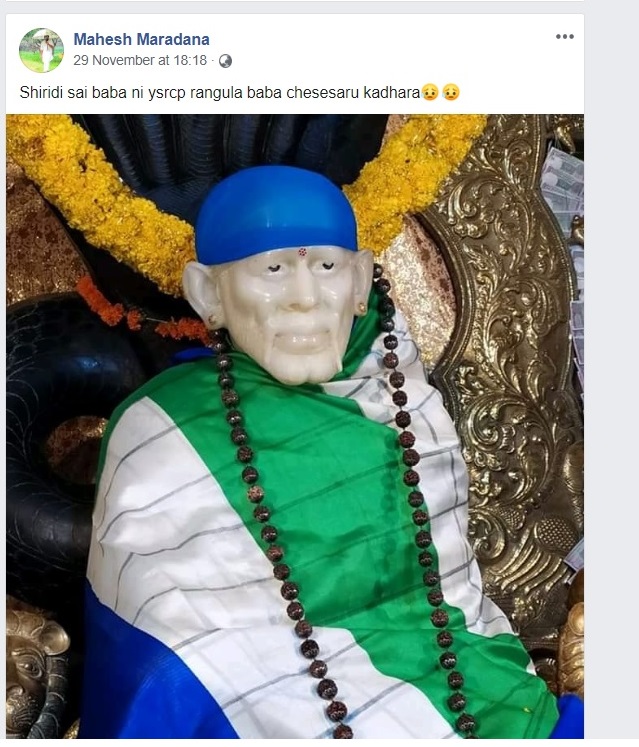 A post, claiming that YSRC party flag adorned a Sai Baba idol in a temple in Cheepurupalli in Vizianagaram district, has gone viral on social media.
This claim follows a considerable controversy regarding YSRCP government painting a Gandhi statue pedestal in their party colours. Naturally, the claim that YSRCP flag adorned a Sai Baba idol has attracted many netizens. The fact that AP Municipal Administration and Urban Development minister Botsa Satyanarayana represents Cheepurupalli has given the issue a lot of traction.
https://www.espicyfilms.com/political-news/ysrcp-flag-on-shirdi-sai-baba?fbclid=IwAR1FhuH9VlBsHtwUXL2vLVV6YQwT9rlK0G31SqhoEZ_E2HInGThHH7j3ts
http://teluguz.com/fresh-controversy-ysrcp-flag-on-shirdi-sai-baba/
Fact Check: NewsMeter team found a video released by the priest of the temple, who clarified that this is not the YSRCP flag. It is a saree donated by a devotee to the temple and does not represent a party. The priest also explained that the cloth even had a border, pico, and fall stitched into it, confirming that it is a saree.
Hence, the claims made by various social media users that YSRCP flag adorned a Sai Baba idol in Cheepurupalli in Vizianagaram are FALSE. It is a saree, with similar colours, harmlessly donated by a devotee.
Claim Review :
Following the Gandhi pedestal controversy, YSRCP adorn a Sai Baba idol with their flag
Claimed By :
Social Media Users