Hyderabad: Many cities around the world are under lockdown, including many parts of India, following the Corona virus pandemic. While life has not been normal and easy for many, naturalists and environmentalists are happy that Earth is getting time to heal and breathe. With people off the roads, animals are now venturing out into the open.
A Telugu film director and producer, Puri Jagannath (@purijagan), shared a picture of a deer on the streets and tweeted, "Hundreds of dolphins playing in marine drive in mumbai, peacocks playing outside KBR park and deers resting on Coimbatore roads. Pl remember we share this planet with them (sic),"
Fact Check:
The claim that this picture is from Coimbatore is FALSE.
NewsMeter did a Google reverse image search and found that the image is from Nara in Japan. According to the reports, Nara Park is a large park in central Nara. Established in 1880, it is the location of many of Nara's main attractions, including Todaiji, Kasuga Taisha, Kofukuji, and the Nara National Museum. It is also home to hundreds of freely roaming deer.
https://www.japan-guide.com/e/e4103.html
There are about 1,200 wild sika deer that have free range at Nara Park, a public park in the city of the same name. These deer have become a symbol of the city and have even been designated as a natural treasure. Some deer have even learned to bow to visitors asking them for food.
https://www.asiancrush.com/japans-sacred-beloved-nara-deer-slated-capture-protect-crops/
The same image was also shared on Facebook on 28 January 2018.
Similar videos were also shared in an article titled "Thousands Of Wild Deer Rule The Streets Of Japanese City" about Nara park on the website https://thedodo.com in August 2014.
https://www.thedodo.com/thousands-of-wild-deer-rule-th-696639783.html
The video shared in this article show the same images as the one that has gone viral.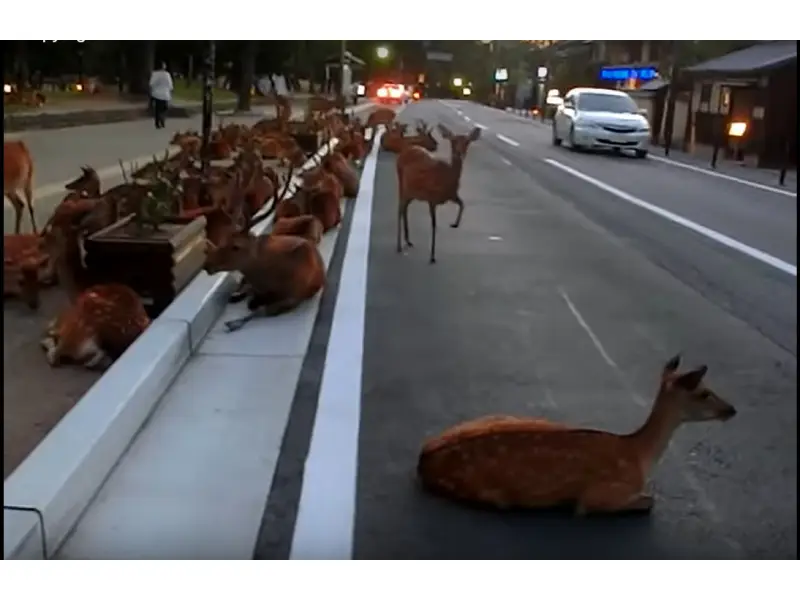 Therefore, the claim that the photo shows a herd of deer resting on Coimbatore roads is FALSE. The photo shows deer at Nara Park in Japan.
Claim Review :
Amid Coronavirus lockdown, has a herd of deer come out onto Coimbatore roads
Claimed By :
Social Media Users