Hyderabad: After the coronavirus pandemic hit the world many countries declared a lockdown with strict social distancing norms. The governments are having trouble enforcing the norms. Amidst this chaos, a video from Kenya is doing the rounds with the claim that the government there has deployed the Maasai tribe to implement a lockdown there. The video claims that this has come handy as the people vacated the roads and curfew was imposed within 24 hours.
The message viral on WhatsApp reads, "The Kenyan government is using the Maasai tribe to implement the curfew after the police there failed to implement it. (In the Maasai tribe, a man is not considered brave without killing a lion with his stick) So the government asked their leader to bring his men to the cities to implement the curfew within 24 hours. Not a single person was seen on the streets after that." The video is shared with this message.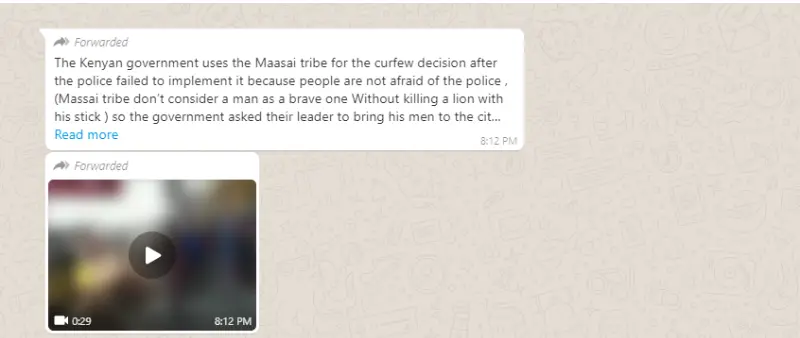 The video was also shared on Facebook and twitter with a similar caption.
KENYA USE MAASAI TRIBES FOR CURFEW

The Kenyan Government Uses The Maasai tribe for the Lockdown Decision After the police failed to implement it because people are not afraid of the police , (Massai tribe don't consider a man as a brave one Without killing a lion with his stick ) so the government asked their leader to bring his men to the cities and implement the curfew, within 24 hrs, not a single ant was seen in the street😂#Corona_Virus #Atrocities #AmpangTamilan #hanmafia #thr_Raaga #Corona_OutBreak #Stay_Home #DudukRumah #MinnalFm #Mirchi #SunTv #Covid_19 #Pandemic #Malaysia_LockDown #StaySafe#astro #Kenya #SouthAfrica #CentralAfrica #Nigeria #Ethiopia #Malawi #London #Chennai #NewYork #Italy #Wuhan #PerintahKawalanPergerakan#DudukDiRumah#Jarak1Meter#KerapBasuhTangan

Ampang Tamilan ಅವರಿಂದ ಈ ದಿನದಂದು ಪೋಸ್ಟ್ ಮಾಡಲಾಗಿದೆ ಸೋಮವಾರ, ಏಪ್ರಿಲ್ 6, 2020
So the Government of Kenya is now using the Masai Tribe to enforce social distancing rules

By the way to be a Masai Worrier you must kill a lion with a stick 😂🤣😂🤣😂🤣😂 #Day14ofLockdown #Covid19SA pic.twitter.com/FBaQCDYIjc

— Sbwl Sbwl (@dacoldest_ncube) April 9, 2020
Fact Check:
The video is shared with a false message. A reverse image search of some key frames from the video and a search using the word 'MBUZI SELLER' displayed in the video threw up a youtube channel under the name. We found a video of longer duration on the page.
The video uploaded on April 2, 2020 is titled 'Sheria ya corona one meter' and the video caption reads 'latest comedy' and 'Tanzanian comedy'. The participants in the video can be found laughing. There is no fear, which is the natural outcome if somebody is coming to harm you.
Moreover, the Kenyan government has not released any official order stating that they are employing Maasai tribe to enforce curfew.
A local news website from Kenya has reported that the video was made for entertainment by comedian Mbuzi Seller. A longer version of the video has been shared on Twitter with the original caption.
Enforcing Social distancing. A #Kenyan Mbuzi Seller takes initiative @MOH_Kenya #COVID19Pandemic #COVID19 pic.twitter.com/ioWRzXZuuQ

— Sagini (@Sagini_o) April 3, 2020