Hyderabad: A video clip having some objects, resembling roots of a tree, moving is viral on YouTube. The post is captioned: "Shiva Naga Roots. Very Rare shiva naga Tree Roots. Rare tree shiva nagam tree roots when they are cut from tree they will continously move till it gets dried."
The same video was posted on Facebook also with the title: "The root of Shivnag brich, which remains in the same year for 4 days after cutting."
Fact Check:
There is no tree by the name Shiva Naga. The objects in the video are horsehair worms. The claim is FALSE.
Many viewers on YouTube commented that it's a horsehair worm.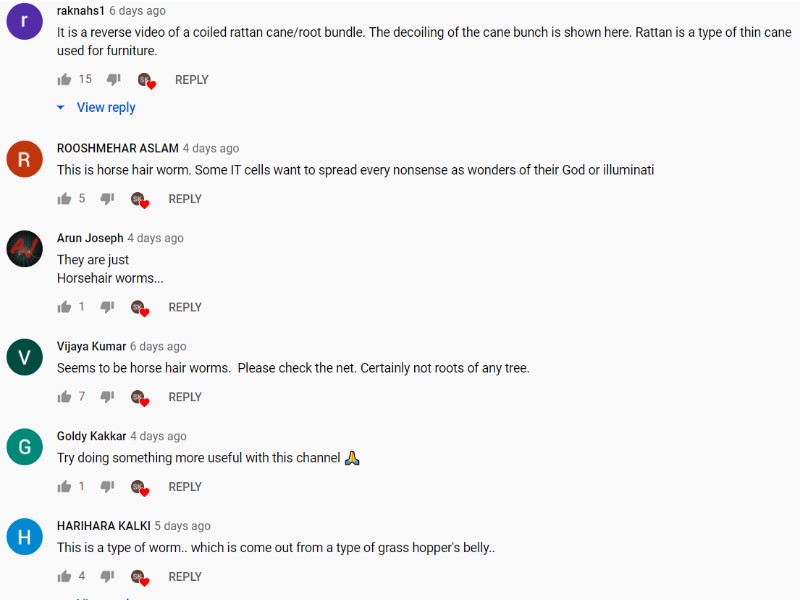 Horsehair worms develop as a parasite in the bodies of grasshoppers, crickets, cockroaches, and some beetles. And when they mature, they leave the host to lay eggs.
According to wired.com, horsehair worms are parasites that turn crickets into suicidal maniacs.
Newsmeter found a report by Malayalam Samayam about the video in which they quoted Dr P. Sujanapal, the senior scientist at Kerala Forest Research Institute. Dr Sujanapal clarified that the video does not show the roots of any plant, but it shows horsehair worms only.
The viral video is of horsehair worm and not Shiva Naga tree roots. Hence, the claim is FALSE.
Claim Review :
photo of Shiva Naga tree roots
Claimed By :
Social Media Users