Fact Check: Viral claim that Yogi Adityanath told Hindus to exhume bodies of Muslim women and rape them is FALSE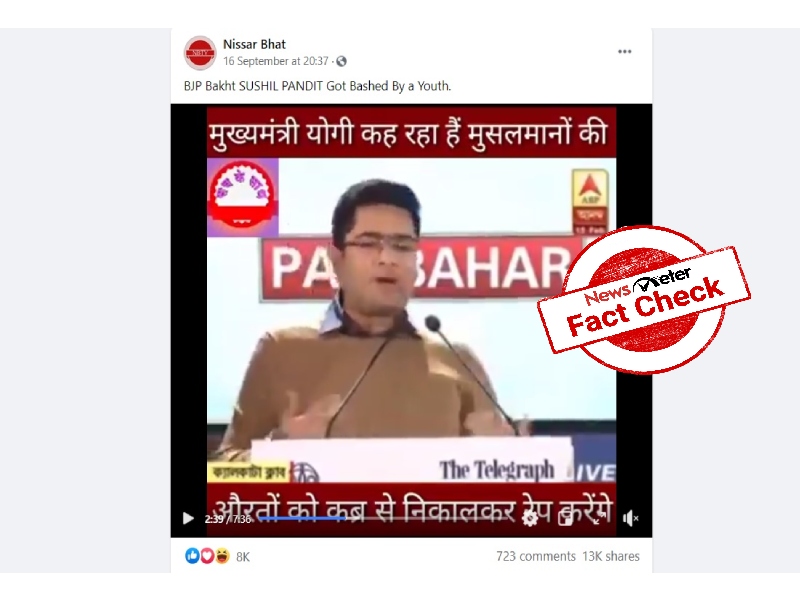 Hyderabad: A video clip of 'The Telegraph Debate 2020' is viral on social media. Six speakers including actor Swara Bhasker, Abhishek Banerjee, Aishe Ghosh, Shishir Bajoria, Abhijit Chakrabarti, and Sushil Kumar Pandit spoke on the topic, 'House rules dissent is anti-national in today's India'.
The clip shows Abhishek Banerjee's speech in which he is claiming that UP CM Yogi Adityanath told Hindus to exhume the bodies of Muslim women and rape them.
A Facebook page posted the video along with a caption "BJP Bakht SUSHIL PANDIT got bashed by a youth". The video has notched over 12,000 views.
Newsmeter also found many articles on the internet, which claimed that CM Yogi Adityanath in one of the speeches had said that 'Rape Dead Muslim Women.'
Bolta Hindustan and London Post published articles claiming the same.
Fact Check:
The claim is false. One of the speakers at the Virat Hindu Chetna rally organized by Hindu Yuva Vahini at Siddharthnagar, UP in 2007-08 made the statement in presence of Yogi Adityanath.
The video is also available on YouTube.
Business Standard, The wire, BBC, and Sisat.Com have also mentioned the rally in their articles, confirming that Yogi Adityanath did not make the controversial statement. But his co-speaker made the statement.
According to NDTV, Yogi Adityanath served notice to the National Conference leader for spreading hatred against BJP.
The claim made by Abhishek Banerjee in his speech is FALSE.
Claim Review :
Yogi Adityanath told Hindus to exhume bodies of Muslim women and rape them
Claimed By :
Social Media Users