Fact Check: Video claiming MP public shouted Kamal Nath as better option than Shivaraj as CM is doctored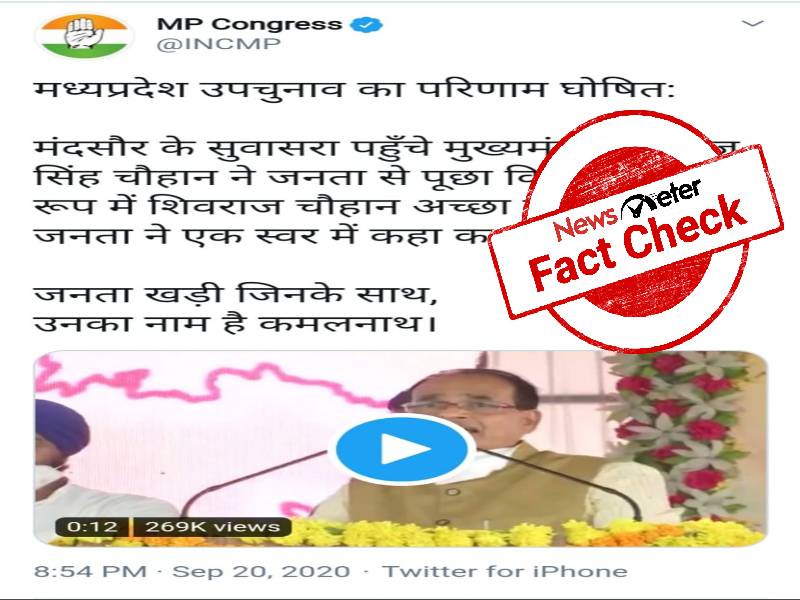 Hyderabad: Madhya Pradesh Chief Minister Shivraj Singh Chauhan went to an election meeting in Mandsaur in his state on September 20, 2020. Now, the Madhya Pradesh Congress is claiming through a video of this gathering that the people of Mandsaur have rejected Shivraj Singh Chauhan and named Kamal Nath as their chief minister.
In the video, Shivraj asks the public who was best as Chief Minister - Shivraj or Kamal Nath, to which the crowd responds by taking the name of Kamal Nath.
Tweeting the video, MP Congress has written "Madhya Pradesh by-election results declared: Chief Minister Shivraj Singh Chauhan, who reached Suwasra in Mandsaur, asked the public whether Shivraj Chauhan as Chief Minister was good or Kamal Nath, the people said in one voice, Kamal Nath.
With whom the public stands, his name is Kamal Nath."
The Congress' tweet has been tweeted more than 2,500 times and liked more than 9,500 times.
http://web.archive.org/web/20200922055301/https://twitter.com/INCMP/status/1307702214094254082
Former CM Digvijay Singh has also tweeted this video.
http://web.archive.org/web/20200922060457/https://twitter.com/digvijaya_28/status/1307841445022191617
Fact Check:
The video is fake. In the video, the part where people were heard taking the name of 'Kamal Nath' has been added separately.
Newsmeter found the original video of the gathering of Shivraj Singh Chauhan on Shivraj's YouTube channel. The meeting was at Suwasra in Mandsaur.
The viral video portion was heard in the YouTube video at 59.09 minutes. In the original video, Shivraj asks the public from the stage, "Tell me another question, is Kamal Nath good, or Shivraj Singh Chauhan is good as the Chief Minister". The crowd responded as Shiv Raj Singh Chouhan in the original video. Whereas in the viral video, it is unclear whose name was shouted.
The Madhya Pradesh BJP has also tweeted the original video and through this has targeted the Congress.
Chief Minister Shivraj Chauhan, while sharing this himself, has also criticised the Congress.
Hence, the claim is FALSE.
Claim Review :
MP public shouted Kamal Nath as better option than Shivaraj as CM
Claimed By :
Social Media Users