Hyderabad: WHO has declared COVID-19 a pandemic. Italy tightened its quarantine measures as coronavirus cases rose to more than 15,000, while more than 1,000 have died of the virus. COVID-19 is spreading across the globe and has reached countries like the US and Australia. Amidst this widespread panic, a Twitter account with the handle @BBCNewsTonight, on 10 March, tweeted that actor Daniel Radcliffe is the "first famous person" to test positive for the coronavirus.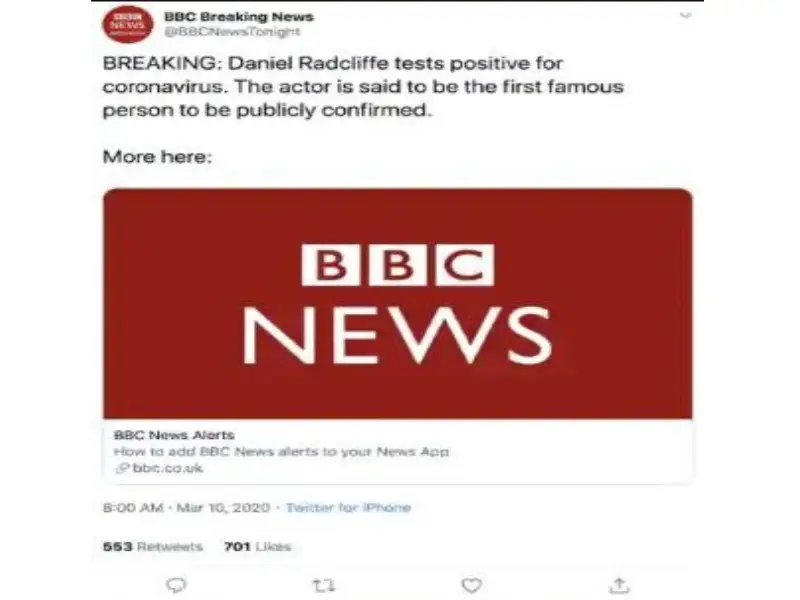 Fact Check:
This claim is FALSE.
The twitter handle is not the official handle of BBC News and does not have the blue tick, a symbol Twitter uses for verified accounts. The real account of BBC is @BBCNews, which has over 10 million followers, and the channel's BBC Breaking News account @BBCBreaking has over 40 million followers. This fake account @BBCNewsTonight had 100 followers when it tweeted this post.
BBC clarified that the account was fake and Daniel Radcliffe was not affected by the coronavirus.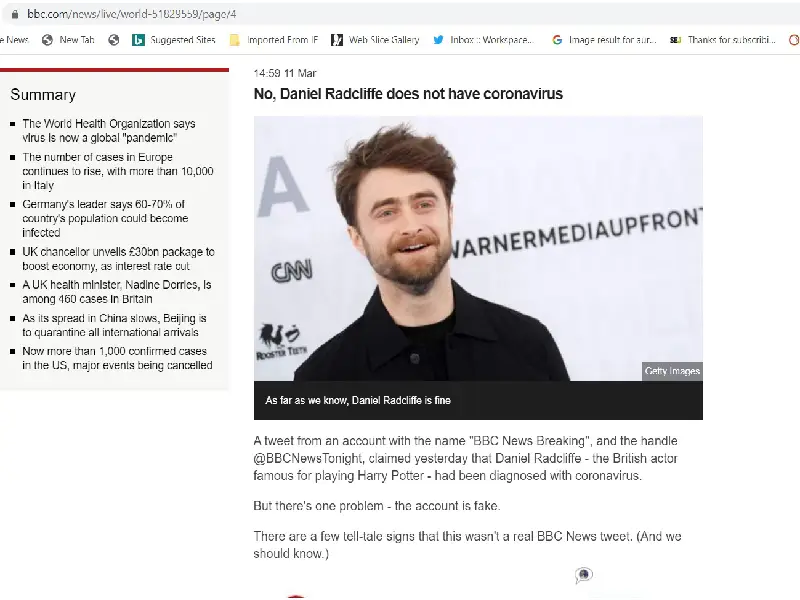 The imposter Twitter account has been suspended for spreading misinformation.
Meanwhile, Daniel Radcliffe also came out and said the rumours were NOT true and added candidly that people think that way because he looks pale all the time.
https://www.hindustantimes.com/hollywood/daniel-radcliffe-reacts-to-rumours-he-has-coronavirus-it-s-just-because-i-look-ill-all-the-time/story-dnS4Cv7x1IkGb6ubbpB7UI.html
In the meantime, Tom Hanks and his wife Rita Wilson have become the first celebrity couple to test positive for coronavirus.
Hence, the claim that Daniel Radcliffe is the first celebrity to test positive for coronavirus is FALSE.
Claim Review :
Daniel Radcliffe the first celebrity to test positive for Coronavirus
Claimed By :
Social Media Users