At least 135 people were killed and over 5,000 wounded in a massive explosion at Beirut port, Lebanon, on 4 August 2020, according to Reuters. Soon after, social media was rife with speculations about what had caused the blast.
An Instagram user posted a photo of the aftermath of Tuesday's explosion and wrote, "BREAKING: PM Netanyahu of Israel has just confirmed the drone strike In [sic] Beirut, Lebanon as their own in another Attack [sic] against the vicious terrorist organization Hezbollah." However, later, the account posted an updated saying Israel and Lebanese officials had confirmed that Israel had nothing to do with the blast.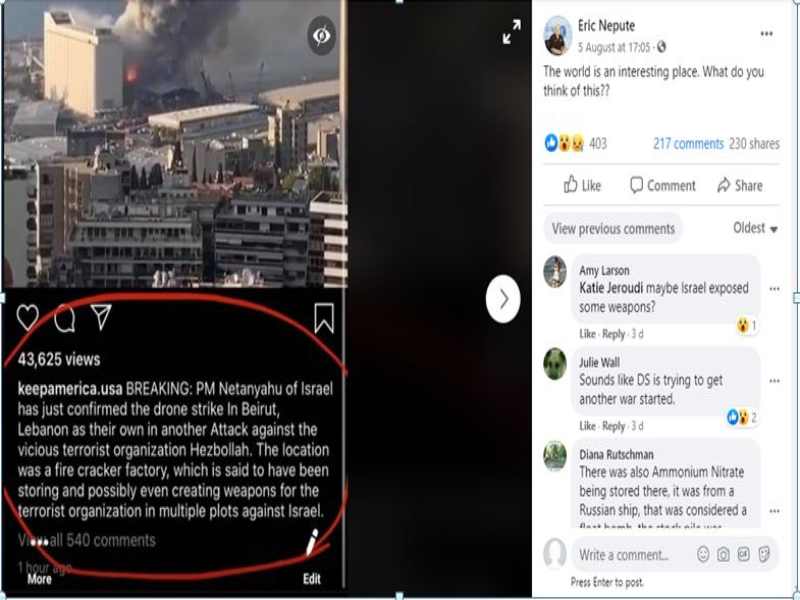 Fact Check:
Israeli Prime Minister Benjamin Netanyahu has not made any such statement and an Israeli official has said that Israel had no hand in the Beirut blast. The authorities in Lebanon and Israel have dismissed suggestions that Israel had anything to do with the incident.
https://www.reuters.com/article/us-lebanon-security-blast-israel/israel-not-involved-in-beirut-blast-israeli-official-says-idUSKCN2502C2
Before the Instagram update, social media users had already shared the screenshot of the first post. A Facebook user, Eric Nepute, had posted a screenshot of the first post which has been shared over 200 times and has received 200 comments and over 400 reactions.
On 4 August, Mr. Netanyahu had said Israel will provide humanitarian aid and medical assistance to Lebanon via the UN proxy.
https://www.israelhayom.com/2020/08/06/report-israel-seeks-to-transfer-equipment-to-lebanon-via-un-proxy/
Earlier, viral tweets had suggested that the blast was caused by a nuclear bomb because of the white mushroom cloud seen rising in some footages. NewsMeter fact-check team, however, had found that this was not true.
https://newsmeter.in/fact-check-is-the-massive-blast-in-beirut-a-nuclear-explosion/
Hence, the claim that Israeli Prime Minister Benjamin Netanyahu said his nation was responsible for the Beirut explosion is FALSE.
Claim Review :
Israeli PMs claim that Israeli drone attack caused Beirut explosion
Claimed By :
Social Media User