Fact Check: Kerala man pinned down by police a la George Floyd is Congress worker, not BJP activist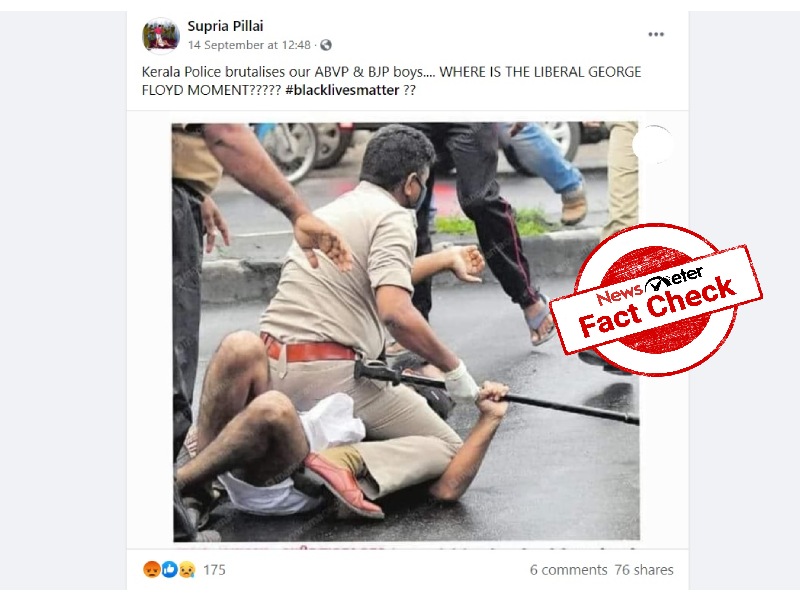 Hyderabad: A picture showing a cop sitting on a man's chest is viral on Facebook. Users claim the man is an ABVP and BJP. "Kerala Police brutalizes our ABVP & BJP boys... WHERE IS THE LIBERAL GEORGE FLOYD MOMENT????? #blacklivesmatter ?" read the post
People are comparing Kerala's incident with George Floyd, an African-American who died while being arrested for allegedly using a counterfeit bill.
Fact Check:
A person is indeed pinned to the ground. However, the man neither belongs to ABVP nor BJP. The person is a youth Congress worker. The claim is FALSE.
With the help of Invid tool Reverse search Image, Newsmeter found many news reports.
According to My Nation report, the incident took place on September 13 when Youth Congress workers protested against Kerala Higher Education Minister KT Jaleel, demanding his resignation after the Enforcement Directorate questioned him in connection with the gold smuggling case. As protesters blocked Jaleel's convey and waved black flags, the policemen were moving Congress workers from blocking the road.
Similar protests took place along the road as Jaleel's convoy passed by, and the workers waved black flags at him. In one of the visuals, Jaleel was waving at the cameras and protesters.
Hence, the claim BJP worker was pinned to the ground by Kerala police is False.
Claim Review :
Kerala man pinned down by police a la George Floyd is BJP activist
Claimed By :
Facebook Users