Hyderabad: A few images and videos are being circulated on social media, claiming that pieces of banned meat were thrown near a Shiv temple in Jharkhand. Some of the messages go on to stress that the meat was beef and that "Shantidoots" in the congress-ruled government had played mischief.
These pictures were also widely shared on Facebook.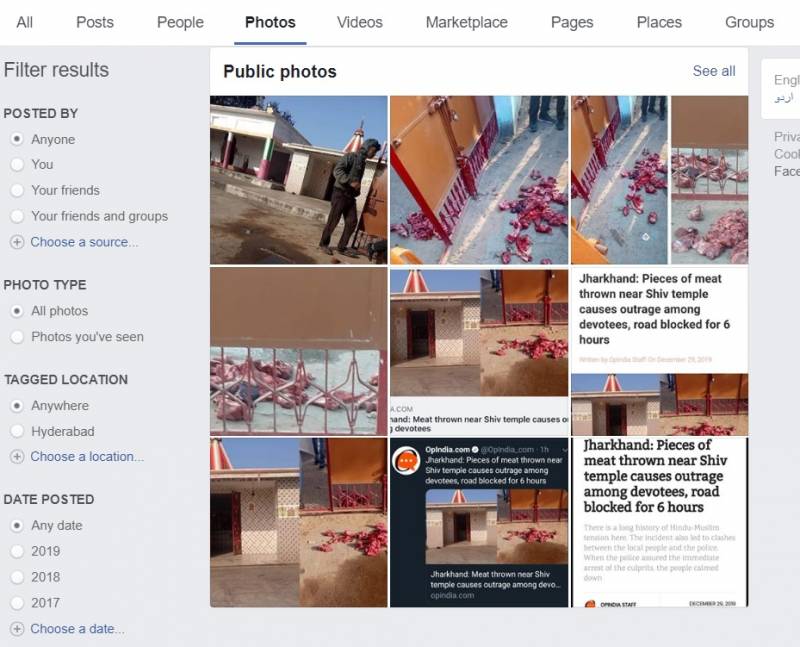 Fact Check:
On searching with the word string "meat found in the temple, Jharkhand", we found many local reports on this incident. According to local newspapers, some miscreants threw pieces of beef at the gate of the Dukhiya Mahadev Shiv temple located in a remote area near Barakar river ghat of Karamdaha village.
The reports also say that angered by this incident, locals blocked the main road between Govindpur and Sahibganj for around 4 hours, causing a traffic jam on the nearby highway. The protesters calmed down and cleared the roadblock after senior police officers promised to nab the culprits soon.
We also found a video of the working president of Jharkhand Pradesh Congress Committee (JPCC) and MLA of Jamtara, Dr Irfan Ansari, saying those behind the nuisance will be severely punished. He also said that the new government of Jharkhand would take strict action against people plotting to spark tension and disturb the peace of Jamtara.
Even though it is not clear who was behind the mischief, the claim of prohibited meat being thrown near the gate of Dukhiya Mahadev Shiv temple is TRUE.
Claim Review :
Meat thrown near entrance of Shiv temple in Jharkhand
Claimed By :
Social Media Users