Hyderabad: Ram Gopal Varma on Saturday shared a video stating "Wowww Tom Cruise running for US president. He will beat the crap out of @realDonaldTrump".
US presidential elections will be held on November 3, 2020. So, political air in the United States is heating up even as Democrats and Republicans are in the process of announcing their nominees before the national convention.
Up in this context, many social media users are sharing a video which shows Tom Cruise running on an open road and stating that he really is in the running for the world's most powerful post.
This post is going viral on Facebook as well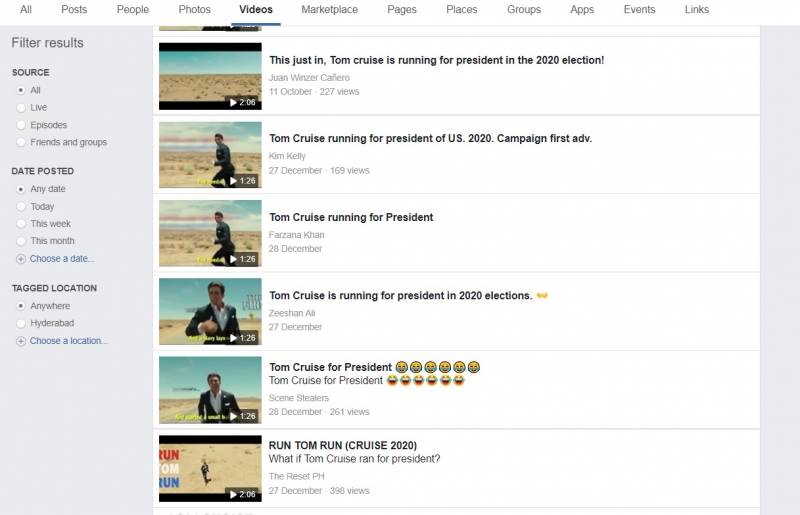 Tom cruise keeps running all along the video and talks about how he has been serving America and how he saved Uncle Sam from aliens thrice. He is also seen saying that "I know this country top to bottom, inside out... I feel the need, the need to lead; as your commander-in-chief, no mission is impossible... America, you complete me!"
Fact Check:
When searched with the keywords "Tom Cruise running for US president", Newsmeter found few fact-check stories that were more than four months old, stating that this is a parody video created by Miles Fisher, an actor who looks very similar to Tom Cruise and also parodied him in "Superhero" movie released in 2008.
If watched frame-by-frame, we actually can determine that it is not the original Tom Cruise running in the video. Miles Fisher also managed to imitate Cruise's voice convincingly.
The video was actually posted by Miles Fisher on August 13.
Fisher also created a mock-up for a Tom Cruise 2020 website. http://cruz.app.artjoker.ua/.
Although the website doesn't carry a disclaimer labelling it as a parody, all social media links on the site are redirected to Fisher's pages.
Hence, Tom Cruise NEVER announced that he is going to run the US Presidential elections. This video is an impersonation video, where an actor resembling Cruise is holding centre-stage. Hence, the claim and the video are FALSE.
Claim Review :
Tom Cruise as Trump's successor
Claimed By :
Social Media Users