Fact Check: Meme being shared on social media stating Bill Gates tried to get patent of N95 mask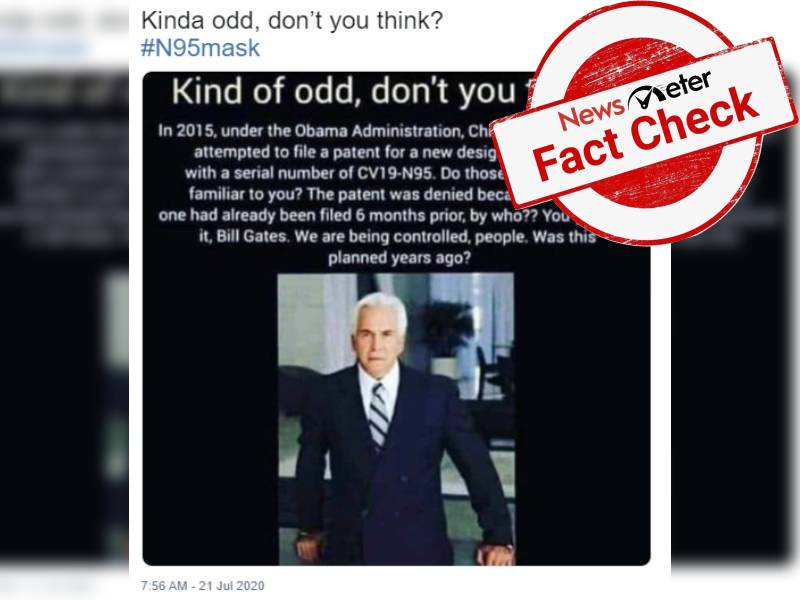 Hyderabad: All the countries are in the race to formulate a vaccine for Covid-19 and Oxford vaccine seems to be the frontrunner. A message is being circulated on social media stating that Bill Gates and one Christopher Harrington had tried to patent N95 Mask.
The message reads, Kind of odd, don't you think? In 2015, under the Obama administration, Christopher Harrington attempted to file a patent for a new design of face mask with a serial number of CV19-N95. Do those numbers look familiar to you? The patent was denied because a similar one had already been filed 6 months prior, by who?? You guessed it, Bill Gates. We are being controlled, people. Was this planned years ago?
You can view the Archived tweet here
The claim was also shared on Facebook
Fact Check:
There is no proof that Bill Gates tried to get patent of any mask and we also searched for Christopher Harrington trying for a patent to a mask, but could not find any valid evidence of the man.
When we searched further for the claim, we found an 'ifunny' meme page, which is used for uploading memes. In that, the maker of the meme has shared that it was independently created by him. He says, "Source: Independent research July 2020 by me, Brett Lofgreen. This is completely fake. I made this whole thing up. That's a stock photo I found when I googled old man in suit. Also Christopher Harrington is the real name of the guy who played Jon Snow in Game of Thrones. Get it together, people. Memes aren't news sources."
We observed the same written in small letters in the above mentioned Facebook claim.
When we tried to search who invented the actual N95 mask, the search led us to a man called Peter Tsai. We found in 1995 he had patented the fabric used for the creation of N95 mask. He was a researcher at the University of Tennessee and retired 2 years ago.
Here is list of inventions patented by Bill Gates and those doesn't include N95 Mask.
Hence, the claim is false.
Claim Review :
Meme being shared on social media stating Bill Gates tried to get patent of N95 mask
Claimed By :
Social Media Users