Fact check: Morphed pic of former UP CM Akhilesh Yadav with RJD leader Tej Pratap goes viral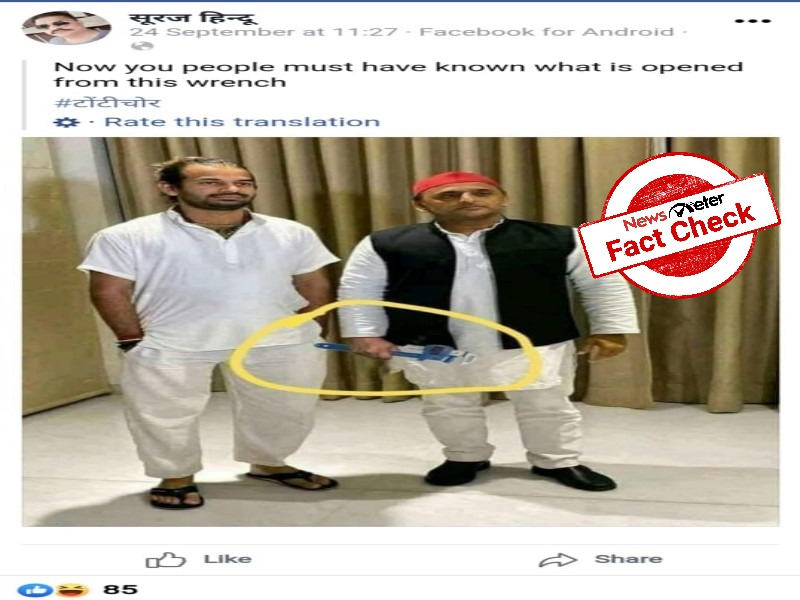 Hyderabad: A viral picture of former UP Chief Minister Akhilesh Yadav and RJD leader Tej Pratap Yadav has revived an old dispute of2018 amidst the heat of Bihar elections.
The controversy relates to stealing faucets from the government bungalow allegedly by Akhilesh Yadav.
In the viral photo, Akhilesh Yadav is standing with Tej Pratap Yadav with a wrench is his hand.
This claim is viral on both Facebook and Twitter. A Facebook user posted the image of Akhilesh holding a wrench with a caption: "Now you people must have known what is opened from this wrench."
Another Facebook post along with the photo is captioned: "We open the sparks at a reasonable rate, bring the tools together".
Fact Check:
A morphed image is viral on social media. The claim is FALSE.
Newsmeter conducted a reverse image search and found a similar image in the gallery of Jansatta. Here in this photo, there is nothing in the hands of Akhilesh Yadav.
This picture was when Tej Pratap Yadav visited Etawah in August last. According to Navbharat Times report, Tej Pratap Yadav's sister Rajalakshmi is married to Akhilesh's nephew.
Tej Pratap Yadav also shared this photo on his Twitter wall on August 19, 2020.
In 2018, after a Supreme Court order, Akhilesh Yadav had to vacate the government bungalow.
Shortly after vacating the bungalow, some pictures showing torn tiles, uprooted taps, and broken walls surfaced in the media. It is in the report of Indian Express.
According to the News18 report, Akhilesh Yadav dismissed all these allegations and said that he had returned the bungalow in the condition in which he had got it. Also, he had taken the same items from the bungalow, which was his own.
The viral image is fake. The image is morphed with the help of software. Hence the claim is FALSE.
Claim Review :
pic of former UP CM Akhilesh Yadav with RJD leader Tej Pratap goes viral
Claimed By :
Social Media Users