Hyderabad: A picture is viral on social media with the claim that the Director of the famous TV serial 'Balika Vadhu', was found selling vegetables in Azamgarh district of Uttar Pradesh.
"Balika Vadhu's assistant director Ram Vriksha Gaur sells vegetables in Azamgarh now due to lack of work amid the COVID-19 pandemic...Where is the lead cast of this [email protected]_shukla ? did he come to help him ? just asking ! https://t.co/CfORN8qx1A", a twitter user wrote.
Click here to view archive.
"Balika Vadhu' Director Now Sells Vegetables in UP's Azamgarh. Ram Vriksha Gaur started selling vegetables after a project of his stalled," wrote another netizen.
Click here to view the archive
The picture below is also viral on many posts on other social media platforms.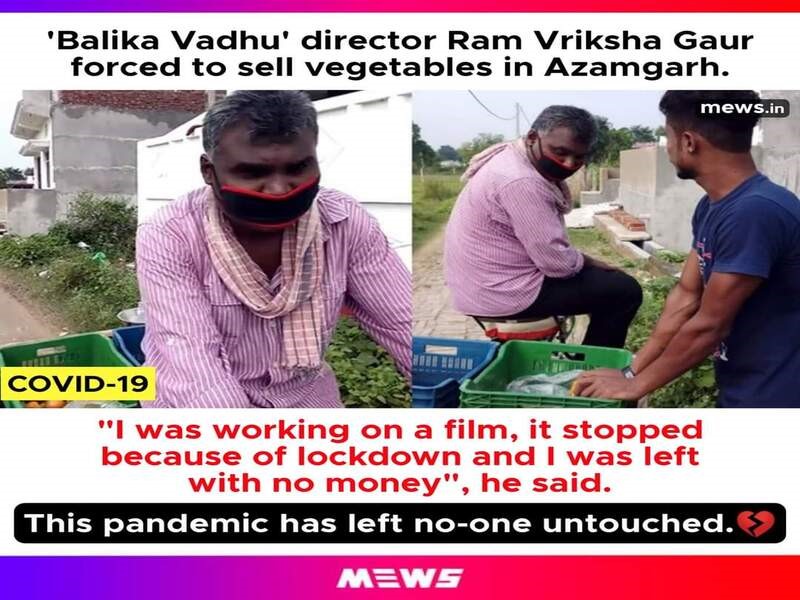 FACT CHECK:
This claim is true.
According to reports, Ram Vriksha was in Azamgarh to shoot a movie when the lockdown was announced. This led to the project coming to a halt and he was stuck. Due to the financial crunch, Ram took on his father's business and started selling vegetables.
The Hindustan Times reported: "One of the directors of Balika Vadhu, Ram Vriksha Gaur, is now selling vegetables in Azamgarh and has said that he has no regrets doing that to make ends meet. Based in Mumbai for past 18 years, Ram had reportedly gone to his native village for recce of a film when the pandemic-induced lockdown was announced nationwide".
"I then decided to take on my father's business and started selling vegetables on a handcart. I am familiar with the business and have no regrets," he told ABP News.
Anup Soni also confirmed the news on his twitter account and wrote, "Pls note...its not only me , it's the whole team of Balika Vadhu trying to get in touch and help him in whichever way he wants...thanks".
Soni also spoke to News 18. " The team is talking to him and to get his account details, and the whole Balika Vadhu team has agreed that as soon as we get the account details from him, we will contribute to help him, whatever he needs, in whichever way," he said.
Therefore, the claim is true.
Claim Review :
Director of Balika Vadhu was selling vegetables in Azamgarh
Claimed By :
Social Media Users